Friday, 29 April 2011 21:56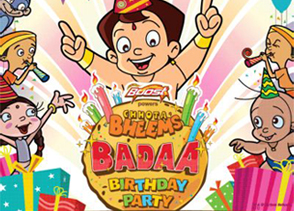 POGO and Boost joined forces to make kids' wishes come true this month with the Chhota Bheem BADAA Birthday contest, which received over 170,000 entries in just four weeks.
Coinciding with the popular hero's birthday celebration on May 1, four major prize winners enjoyed a money-can't-buy experience which included an all expenses paid party for their friends and family and a personalized visit by Chhota Bheem himself at the kids' homes. Other prizes included iPods, music systems, and mobile phones.
Rohit Sarma, Executive Director, Network Ad-sales, South Asia, Turner International India said, "POGO is known for its innovative promotional campaigns that truly engage kids by taking the experience beyond TV. Chhota Bheem is a huge favourite amongst our POGO viewers and we were delighted to partner with Boost on the Chhota Bheem BADAA Birthday campaign. Both Boost and Chhota Bheem stand for energy and stamina, so the partnership was a natural fit."
The Chhota Bheem on-air birthday party on May 1 will kick off at 9:30 a.m. with special back to back episodes followed by the Indian television premiere of Chhota Bheem movie IV - Chhota Bheem - Journey to Petra at 12 noon. The party continues with the telecast of some of the best adventures of Chhota Bheem and his team.
Chhota Bheem line up for the Badaa Birthday celebrations On May 1, 2011 only on POGO:
Timings
Show name
9.30 a.m.
Chhota Bheem Badaa Birthday Special episodes
10.00 a.m.
Best of Chhota Bheem episodes
12 noon
LCP! Chhota Bheem - Journey to Petra
1.30 p.m.
Best of Chhota Bheem episodes
6 p.m.
LCP! Chhota Bheem - Journey to Petra
A strategic acquisition between POGO and Hyderabad based Green Gold studios - 'Chhota Bheem' captured the hearts and minds of kids in the first year of its launch in April 2008. It is one of the top rated shows on POGO. Inspired by the legendary Bheem from the Mahabharata, Bheem stands for his strength and integrity. This fictional take revolves around iconic Bheem, as a nine year old brave and intelligent boy from an imaginary village Dholakpur, who loves to eat and always offers a helping hand to his friends and other villagers.