Wednesday, 29 December 2010 09:43
India's Biggest Business Reality Show The Pitch on Bloomberg UTV had a fitting finale with the enterprising Shreyas Puranam Srinivas who boldly overcame the final hurdle to being declared as the winner. Bloomberg UTV further gives an opportunity of lifetime to Shreyas to get mentored for a period of one year at the IIM-C and hone his skills.

Shreyas Puranam Srinivas is the co-Founder/ Silent Partner in Level 10 Studios, a pioneering effort to create India's first privately-held, indigenous print syndication company. He co-founded Level 10 Studios earlier this year with the intent of promoting and producing indigenous comic book content. He holds 50% equity in the company and serves as a silent partner. Previously, Shreyans was employed as a Business Partner with Hindustan Unilever Limited to act as the key, strategic, interface between the information technology group and specific business areas, namely distribution planning and logistics, in order to proactively support and add value in the delivery of their business objectives. Shreyans is a member of the International High IQ society called Mensa and has achieved 99 percentile in the Mensa Global IQ test - top 1% of the global population in terms of IQ.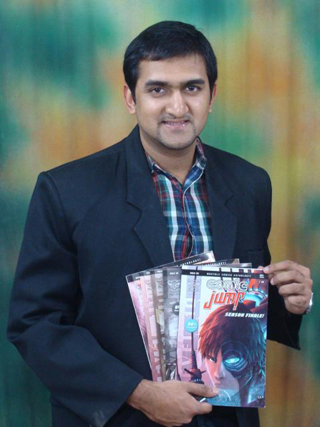 Hosted by the immensely talented Boman Irani, India's biggest business reality show - The Pitch, ever since its inception on the 17th of October, 2010, has sprung one surprise after another each week with challenging tasks, lucrative incentives and heart-breaking eliminations. With some of the biggest names in the Corporate, Sports and Entertainment industry gracing the show, contestants had to undergo intense competition and come out with innovative strategies to win the coveted seed money to take their business idea to the next level.

Contestants presented various business ideas to the visionaries of Corporate India through the course of the show's run and 'THE PITCH' has certainly raised the bar by quite a few notches, as far as Reality shows are concerned.

Deepak Lamba, Business Head, Bloomberg UTV said, "The Pitch has achieved unprecedented success and it is very heartening to see the entrepreneurial talent that exists in our country today. It is even more gratifying to be in a position to give aspiring entrepreneurs such a huge platform to realize their dreams. We would like to extend our good wishes to Shreyas and do hope he takes his business idea to the next level."

When asked about his win, Shreyas said, "It is an exhilarating feeling to win this show. I had participated, thinking that it will be a good platform to test my own business acumen. Although, I did not really expect to reach this far, I always had belief in my ability and thankfully, it has paid off! I have always had great ideas but have never really had the resources to execute them, so I will be forever indebted to 'THE PITCH' and Bloomberg UTV, for giving me this opportunity."

The show came to a close in Kolkata with great pomp and fanfare, with the finalists as well as the energetic host Boman Irani, in high spirits, gung-ho about the success 'THE PITCH' has achieved in such a short duration.