Tuesday, 26 April 2011 14:40
New affordable SxS rig brings Pro-level 3D gear to a new audience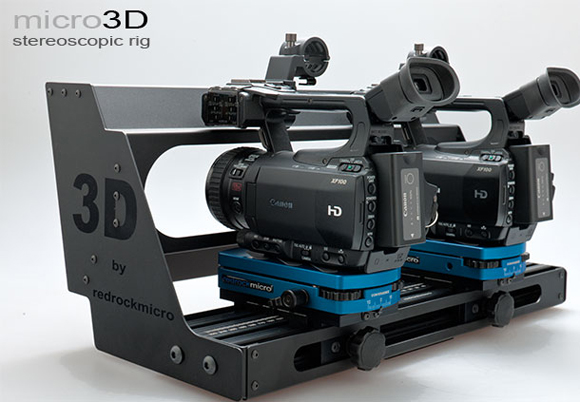 Redrock Micro, the recognized leader in affordable professional-quality cinema accessories, today announced the new Redrock Micro micro3D rig for professional stereoscopic 3D production. The micro3D delivers professional features and build quality at a price that makes 3D accessible to virtually anyone wanting to shoot 3D. The micro3D rig was recently awarded Best Support Rig of NAB 2011 by Videomaker magazine. Recent advances in camera technology have dramatically reduced the price and size of video cameras that meet the requirements for professional quality 3D production. As an example, the Canon XF105 series digital video camera packs all the features needed into a compact powerful and inexpensive camera body. Despite these camera innovations, 3D support rigs have lagged behind, remaining heavy, cumbersome and expensive: that is until now. The new Redrock micro3D rig delivers professional features in new compact affordable solutions.
The micro3D rig is a state-of-the-art side-by-side (SxS) support rig for two-camera stereoscopic production. It is designed for today's smaller format cameras and price-conscious stereographers looking to own high quality 3D gear. Like all Redrock equipment, the micro3D is built to the highest standards of professional quality and carries a lifetime warranty.
Key advantages of the Redrock micro3D rig include:
Full featured side-by-side (SxS) stereoscopic rig for digital video cameras
18" range of interaxial adjustments with locking knobs
Unique tool less 3-point xyz adjustment plates for precision camera alignment
Bottom mounting plate with ¼" and 3/8" taps for virtually any tripod mount
Innovative quick-release camera plates
Laser engraved markings for convergence, interaxial distance
Optional shroud designed for Canon XF105 series or similarly sized digital video camera
Support for a broad range of cameras including HDSLRs, Canon XF105, Canon XF305, Sony EX3, Red Epic, Red ONE
Rugged all-metal precision construction
Redrock micro3D rigs are available for ordering immediately direct from Redrock Micro Store.