Friday, 27 May 2011 07:52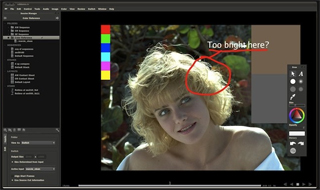 Tweak Software, makers of RV, the next generation image and sequence viewer for VFX and animation artists, announces the availability of RV-SDI. The new software adds dual link SDI output with embedded audio to Tweak's advanced playback and review tool, to handle the growing need for stereo 3D output and review in screening rooms and theaters.

Tweak's RV makes it easy to review media with a powerful, customizable dailies workflow and an advanced media architecture that can automatically combine media of different resolutions, frame rates, color spaces, and audio sampling rates. Key capabilities of RV-SDI include:
· Stereo over Dual Link SDI
· High resolution, high bit depth SDI
· 24 bit embedded audio
· Advanced Color handling: HDR, floating point, linear light pipeline
· Review: Organize and annotate media for desktop or dailies review
· Collaboration: Connect to other artists, clients or vendors for remote review
· Editing: Edit sequences with lightweight intuitive tools
· Comparison: Layout shots or cuts in tiled views, A/B compares with wipes
· Integration: Script, customize, automate RV to fit into your pipeline or workflow

RV-SDI uses Nvidia Quadro SDI hardware, supports Linux and Windows, and is now available for $4,999. Leading VFX and CG animation studios including Digital Domain, Aardman, ILM, Zoic Studios and many others use RV to play back and review digital media. RV's professional, high-performance toolset is built on an open, extensible architecture allowing users to adapt the software to their own pipelines and styles of working.