Tuesday, 05 April 2011 17:50
India's largest Expo on Animation , VFX  and Gaming is scheduled to take place on 29th - 30th May'2011, Nehru Center, Mumbai - India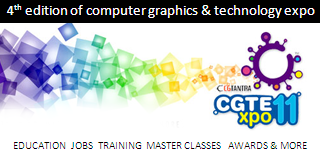 CGTExpo this year plans to paint Nehru Center with pixels all over as it comes back with yet another edition scheduled to take place on 28th and 29th may at Nehru Center, Worli, Mumbai..
Being, the India's largest Career Guidance and Computer Graphics Technology Expo on Animation, Visual Effects, Gaming Technology and Visual Arts, it brings backs with it an impressive line-up of activities, programs and conferences foraying into all genres of artistic, technical and business domains. CGTEXPO has been a tremendous success witnessing footfalls as good as 4000 people turning up for the 2 day exhibition and conference in 2008, 2009 and 2010 each.
There has been a whole range of diversified participation from various national and international AVGC industry, with attendees and speakers flying in from all across the country.. It is an initiative from CGTantra's side to bring AVGC industry under one roof where students and professionals can upgrade their knowledge and could get to meet the studios and professionals.
"Tracing Back the Pixels" is the theme set for this year's CGTExpo, which will acknowledge and share the Birth of Animation & CG Industry. To know from where the entire CG Industry has originated, how it has gradually developed and what holds in the future for the Gen Next. Each pixel at this CGTExpo will resonate the years of jobs, education, gaming, and visual arts of the yesteryears and how these elements are going to make the Picture of the Future. CGTExpo 2011 will take you with industry insiders and visionaries into the past to learn, present to enhance upon and a hopeful future that awaits the Magnanimous Animation, VFX Gaming Industry and Visual Arts industry.
CGTExpo is built up of a plethora of activities that gives it the existence of boasting up as India largest exhibition in this avenue...  Exhibition, Job Fair, Education Fair, Technology Showcases,  Master classes and Seminars, Stage Showcases, Digital Art Gallery and Screenings, Gaming Zone, Competition Zone are the wings that let it fly high.
CGTExpo has been fortunate and thankful to its leading sponsors and partners of previous years, Frameboxx - who has been their presenting partner since the beginning and also FX School and Lucas Film have been their Associate Partners since all the years. CGTExpo is humbled to receive active participation from Wacom, NVIDIA, HP, Autodesk, SiggraphAsia, Contact Singapore,  MAAC, NASSCOM, BIGAIMS, Prime Focus, DreamWorks, Technicolor, MPC , Tata Elxsi , Rhythm & Hues,  Corel, DSK Supinfocom and many more.
CGTExpo has witnessed a whole new universe of some of the most illustrious speakers nationally and internationally sharing their knowledge and achievements. CGTExpo had some great line-up of sessions in their conference track last year including, sessions on Star Wars by Lucasfilms Singapore, Sessions by  John Hill (Supervising Animator, Shrek Forever After) and Raman Hui(Co Director, Shrek 3) from Dreamworks Dedicated Unit at Technicolor, Showcase by Rajiv Rao from O&M of the Making of Vodafone Zoo-Zoo Commercial, Case Study of 9XM Channel Cartoon characters by Prime Focus, Showcase by Dhimant Vyas who did title casting of Taare Zameen Par, Session by Kireet Khurana (Director of Toonpur Ka Superhero) VFX Studio Showcase with speakers from Tata Elxsi, MPC , Eyeqube , Pixion and Prime Focus showcasing some of the leading Commercials and Feature Films that they have worked on...  In the 1st and 2nd edition too, CGTExpo had speakers like Charu Clark from Pixar Studios, Philippe Gluckman ( CD at Dreamworks Dedicated Unit at Technicolor India) and the entire team present showcase of Merry Madagascar and many more speakers coming down to CGTExpo to host sessions.
CGTExpo has had the privilege and grandeur of welcoming some of the most Eminent names from the industry making their presence at the event... 'Ashish Kulkarni - CEO, Big Animation' , 'Biren Ghose - Country Head at Technicolor India' , 'Shelley Page - Head of International Outreach, Dreamworks Animation' , 'Heather Brown - Recruitment Department, Lucasfilm Singapore' , 'Aijaz Rashid - Business Head Commercial, Pixion' ,  'Ram Mohan - Father of Indian Animation' , 'Ho Ee Hong - Area Director, India, Contact Singapore' were some of the few names that graced the event last year.
CGTExpo hosts the first of its kind CGTantra Community Awards and this year it is scheduled to take place on 28th may'2011 evening at Jade Gardens, Nehru Center, Mumbai. CGTantra Community Awards is an initiative towards recognizing and honoring the best of the artists. CCA unlike other awards of the industry aims towards recognizing the excellence in different aspects of art-forms of Animation, VFX and Gaming Industry.
For further information regarding the same, you can visit CGTExpo or write to This e-mail address is being protected from spambots. You need JavaScript enabled to view it or call at 022 28688234.