Friday, 01 April 2011 13:22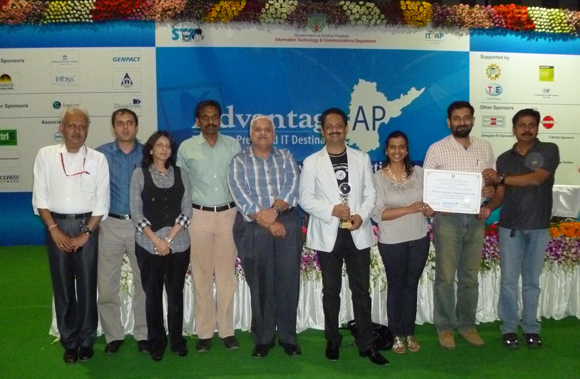 DQE, the global entertainment production and distribution company, today announced that it had received the Excellence Award as the Top Indian ITeS Company in the State from the Government of Andhra Pradesh, Information Technology and Communications Department which conferred the award to the organization.

The award was presented by Sri.N.Kiran Kumar Reddy, Hon'ble Chief Minister of Andhra Pradesh at an Awards distribution function under the auspices of 'Advantage A.P.' on Thursday, 31st, March 2011, at Shilpakalavedika, Madhapur, Hyderabad and received by Chairman and CEO of DQ Entertainment International, Tapaas Chakravarti. "Advantage AP 2011 - The Most Preferred IT Destination", was a 2 day summit for IT & ITES companies, Academic institutions and Governments to collaborate and leverage the enabling environment in the state of Andhra Pradesh (AP). AP is home to a vibrant IT & ITES Industry, with state-of-the art infrastructure and I.T Special Economic Zones thereby maintaining high growth rates and contributing 0.57% of national GDP (as against the national GDP share of 3.83%). The State of Andhra Pradesh contributes to 15% of national IT exports.

The ICT Policy 2010-2015 of the State offers best facilitation & thrust for the growth of Start ups, Small & Medium Enterprises and sun-rise areas like Engineering services, Product/R&D companies, Animation, Gaming, etc.

Speaking at the award ceremony, Sri N. Kiran Kumar Reddy Hon'ble Chief Minister, AP said "The state government would encourage the growth of new verticals such as Animation, Gaming & Digital Entertainment through setting up of special economic zones (SEZ) and provide other facilities to support the growth of this industry."

Tapaas Chakravarti, Chairman & CEO of DQE Group commented: "We are delighted to receive this recognition, which is really a validation of the hard work accomplished by DQ'ites. What is even more heartening is the assurance of support given by the Hon'ble Chielf Minister, The I.T. Minister and the IT&C department including Smt. K. Ratna Prabha, Principal Secretary of IT&C, to grow the animation & gaming industry, especially in Tier II/III cities, to further generate employment opportunities for youth in the state."