Thursday, 02 December 2010 10:07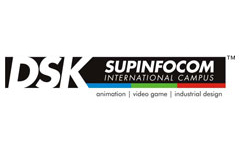 DSK Supinfocom is the largest education campus in India that offers professional courses in the highly competitive fields of Gaming, Animation as well as Industrial Design.
The Times Education Expo is the perfect platform for young students to learn about the different career avenues and various educational institutes providing these options.
The New Delhi Times Education Expo will be held on 4th and 5th December, 2010 at Pragati Maidan. The representatives of DSK Supinfocom will be available at their stalls numbered 81 and 82.
The Patna Time Education will be held in Hotel Chanakya in Patna on 25th and 26th December 2010. Prospective students and interested individuals can interact with the representatives of DSK Supinfocom at their stalls numbered 14 and 15.
The Bangalore Times Education Expo will be held at the Nimhans Convention Centre on 8th and 9th January 2011. DSK Supinfocom will be occupying the stalls numbered 24 and 25. Interacting with DSK Supinfocom representatives will allow prospective students to learn about the courses offered at this school of international repute along with future job opportunities in these fields.