Thursday, 05 May 2011 18:55
Martin Freeman, David Tennant, Imelda Staunton, Jeremy Piven, Salma Hayek, Brian Blessed, Brendan Gleeson, Russell Tovey, and Ashley Jensen Also On Board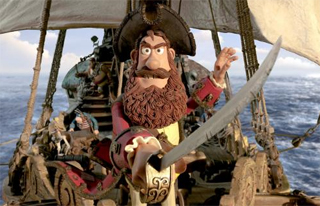 Hugh Grant will voice the lead role alongside an all-star cast in The Pirates! Band of Misfits, the new stop-motion, 3D, animated film produced by Aardman Animations for Sony Pictures Animation. The film, which will be distributed by Columbia Pictures, will be released March 30, 2012 in North America. Hugh Grant, starring in his first animated role, is the luxuriantly bearded Pirate Captain – a boundlessly enthusiastic, if somewhat less-than-successful, terror of the High Seas.  With a rag-tag crew at his side (Martin Freeman, Brendan Gleeson, Russell Tovey, and Ashley Jensen), and seemingly blind to the impossible odds stacked against him, the Captain has one dream: to beat his bitter rivals Black Bellamy (Jeremy Piven) and Cutlass Liz (Salma Hayek) to the much coveted Pirate Of The Year Award.  It's a quest that takes our heroes from the shores of exotic Blood Island to the foggy streets of Victorian London.  Along the way they battle a diabolical queen (Imelda Staunton) and team up with a haplessly smitten young scientist (David Tennant), but never lose sight of what a pirate loves best: adventure!
The Pirates! Band of Misfits, Aardman's most ambitious stop-motion film to date, will be created with the same beautiful hand-crafted technique that the company brought to the Academy Award® -winning film Wallace and Gromit: The Curse of the Were-Rabbit and Chicken Run.  The film is directed by Peter Lord, a founding partner of Aardman, director of Chicken Run (with Nick Park), and a two-time Academy Award® nominee for his short films at the company. The film is co-directed by Jeff Newitt. The screenplay is by Gideon Defoe, based upon his books.  Production Designer is Norman Garwood. Producers are Peter Lord, David Sproxton, and Julie Lockhart. Executive Producer is Carla Shelley.
Commenting on the announcement, Lord said, "I'm so grateful to the entire cast for their talent and energy. The characters that they've created fill the screen with life and fun. As the Pirate Captain, Hugh Grant has given a stand-out performance – he combines an effortless on-screen warmth with brilliant comic timing. And as the leader of our motley pirate crew, he shows a real barnstorming, swashbuckling side of his character as well.  Only Hugh could anchor this story of love, loyalty, greed, and nautical high-jinks."
Hugh Grant most recently starred in Did You Hear About the Morgans?, Music and Lyrics, American Dreamz, Bridget Jones's Diary and its sequel, Bridget Jones: The Edge of Reason, both with Renee Zellweger; the ensemble comedy hit Love Actually, and Two Weeks' Notice.  He won a Golden Globe Award and a BAFTA for his performance in Four Weddings and a Funeral, and was nominated for Golden Globes for his performances in Notting Hill and About a Boy.  His many other feature film credits include An Awfully Big Adventure, The Englishman Who Went Up a Hill But Came Down a Mountain, Sense and Sensibility, Mickey Blue Eyes, Small Time Crooks, and Extreme Measures, which he also produced.
Aardman, based in Bristol (UK), co-founded and run by Peter Lord and David Sproxton, is a world leader in animation. It produces feature films, television series and television commercials for both the domestic and international market. The studio has won over 400 international awards including 4 Oscars®.