Tuesday, 12 April 2011 09:10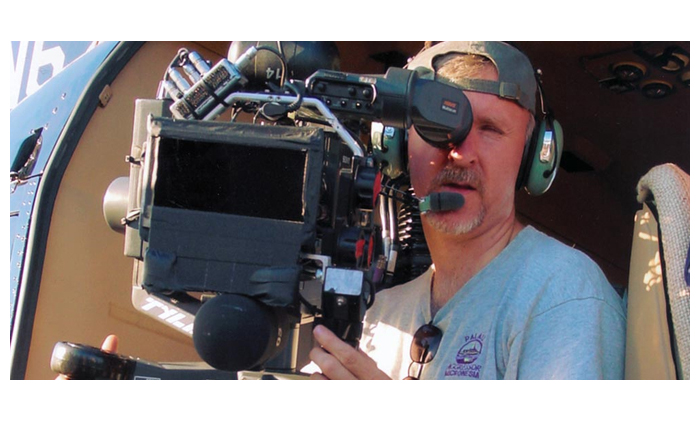 Filmmaker and 3D proponent James Cameron has teamed with cinematographer Vince Pace, another 3D pioneer, to form Cameron-Pace Group (CPG). The venture seeks to accelerate worldwide growth of 3D across all entertainment platforms including features, episodic and live television, sports, advertising and consumer products, pioneering a new generation of camera systems, services and a variety of creative tools that are innovative, powerful and easier to embrace. Cameron and Pace unveiled the company yesterday during a press conference at the 2011 NAB Show in Las Vegas.

CPG succeeds the longstanding Pace company. Rebranding has already taken hold as the CPG banner is effective immediately. CPG will be headquartered in Burbank, Calif., at the home to what was Pace. CPG is going to expand Pace's technology impact by developing new solutions and implementing current solutions worldwide. These activities will require the company to both expand its existing staff of engineers and technicians, and fill a number of newly created positions.

CPG intends to build upon the strong foundation of the company Pace and the 3D technology to which its artisans have individually and collectively contributed, such as the Fusion 3D system.  In combination, Cameron's and Pace's technologies, products and services have been responsible for $4.7 billion of box office receipts and have played an extensive role in 25 features, seven concert and music entertainment projects and 40 sports productions worldwide, including Avatar, TRON: Legacy, Resident Evil: Afterlife and U2 3D. This history puts CPG in a unique position to respond to the growing demand for high-quality 3D entertainment and to provide 3D technology innovations that serve studios, filmmakers, DPs, producers, networks, studios and broadcasters.  The company plans to take full advantage of its position to drive innovations in technology and deliver products, services and creative tools in unprecedented ways.

CPG also looks to serve as an industry advocate for 3D technologies, practices and creative tools that will help filmmakers and other content producers realize 3D's full potential as a creative and powerful storytelling and live broadcast medium. It will also drive public advocacy by setting the "gold standard" for the public's perception of 3D, which will result in compelling, engaging and high quality 3D entertainment.

"Our goal is to banish all the perceived and actual barriers to entry that are currently holding back producers, studios and networks from embracing their 3D future," said Cameron, co-chairman of CPG.  "We are dedicated to building a global brand that is synonymous with high quality 3D and spans multiple channels, from features to episodic television, and changes the boundaries of what is understood to be 3D material."

Company co-chair Pace added, "Through our expanded reach and new generation of 3D solutions, we will deliver a variety of creative tools including Slate2Screen™ 3D production services, educational workshops for industry professionals in Fusion 3D and Fusion 3D Mobile Workflow Units that support end-to-end solutions for both the live and recorded production environments. CPG will deliver can-do solutions."

CPG already has an extensive list of current and upcoming projects, including Pirates of the Caribbean: On Stranger Tides, Transformers: Dark of the Moon,  The Three Musketeers, The Invention of Hugo Cabaret, Life of Pi, and 47 Ronin.

ARRI deal

CPG has also entered into a cooperative partnership with ARRI in the development of the ALEXA M camera system, with its first concept showing at this week's NAB Show. Since the launch of the ALEXA digital camera last June, leading directors and DPs have adopted the camera for digital cinematography.

ARRI has worked with Pace, now CPG, on several premium projects including The Three Musketeers; Martin Scorsese's Hugo Cabaret due for release in November; Ang Lee's ongoing production Life of Pi, and now 47 Ronin, starring Keanu Reeves, which recently entered principal photography.

Martin Prillmann, ARRI managing director, said, "The ALEXA M camera system is designed for mobile 2D and 3D camera configurations, offering the same unparalleled image quality, reliability and workflow options as all other cameras in the ALEXA product range. The Cameron-Pace Group will have exclusive commercial access to the first systems to be made available in September 2011, pioneering its use in a variety of new 3D application features unique to the CPG/ARRI collaboration. Serial production and sales release of the ALEXA M to all customers will commence during the first quarter of 2012."

In a joint statement, Cameron and Pace said, "With the recent introduction of the ALEXA on our 3D rigs for Hugo Cabaret, we witnessed a new beginning in the world of 3D cinematography. The transition from film to digital became a transparent background to the task at hand--that of creating the look of the film. As both digital and 3D mediums mature, more time will be spent on promoting the essence of filmmaking and not the differences in the technology. ALEXA is a supremely creative tool in this process and a huge step towards the maturity of digital cinematography. ALEXA M will further revolutionize the production of 3D content for broadcasts and cinematic applications."

Pace and Cameron went on to say that they have selected the ARRI Group's rental companies as a collaborator in the identification of opportunities for ALEXA M systems and during the fall of 2011 will work jointly to place CPG and ALEXA M technology on key productions worldwide.