Friday, 26 November 2010 09:23
(Reuters) - The animated comedy raked in $30 million beating new releases, including action flick Unstoppable.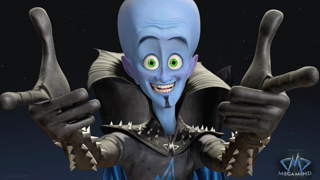 Animated comedy Megamind topped film charts for the second week last Sunday, claiming No. 1 at North American box- offices with $30 million and beating new releases, including action flick Unstoppable. The family-oriented comedy pushed its two-week total to $89.8 million and showed staying power in theatres with a decline of 35 per cent from last week's debut of nearly $48 million for its producers at DreamWorks Animation. The relatively small drop, compared to other major releases that often see ticket sales fall 50 per cent or more, has DreamWorks Animation hoping Megamind can hold its own against the widely anticipated Harry Potter And The Deathly Hallows: Part 1. "We're seeing lots of momentum with kids and especially young boys," DreamWorks Animation global marketing chief Anne Globe said, adding that the company expects Megamind to continue performing well in theatres equipped with 3D.

The new Harry Potter will not be show in 3D. In second place over the weekend was runaway train movie Unstoppable, starring Denzel Washington and Chris Pine. It pulled in $23.5 million and was the top-grossing new release, pleasing its distributor 20th Century Fox. The fast-paced thriller generally earned good reviews from both critics and positive response from fans, Fox said, which is rare in theatres these days. Unstoppable debuted in about 3,200 theatres, for an average of $7,300 per location. Megamind pulled in $7,600 per venue in approximately 3,900 locations.

In its second week in theatres, Warner Bros. comedy Due Date, starring Robert Downey Jr., dropped one position to the No. 3 slot on box- office charts with $15.5 million, or $4,600 per theatre in more than 3300 locations.

Sci-fi thriller Skyline was No. 4 with $11.7 million, while romantic comedy Morning Glory rounded out the top 5 with $9.6 million, a disappointing opening with major stars like Harrison Ford and Diane Keaton working alongside Rachel McAdams.

Director Tyler Perry's For Colored Girls fell to the No. 6 spot with a 65 per cent drop in ticket sales to a total $6.8 million. That figure pushed its cumulative box-office to just under $31 million in two weeks.

Rounding out the top 10 in descending order were four holdovers from recent weeks, Red, Paranormal Activity 2, Saw 3D and Jackass 3D.

Megamind, Morning Glory, Paranormal Activity 2 and Jackass 3D were all distributed by Paramount Pictures, a unit of Viacom Inc.. Megamind was produced by DreamWorks Animation. Skyline was released by Universal Pictures, a unit of General Electric's NBC Universal media division, and Unstoppable by 20th Century Fox is a division of News Corp. For Colored Girls and Saw 3D were released by Lions Gate, and Red by privately held Summit Entertainment.