Friday, 08 July 2011 12:07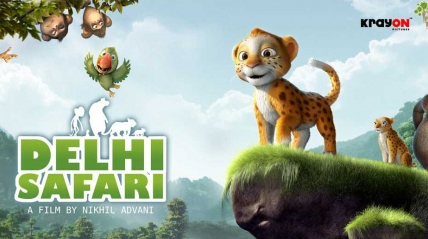 Delhi Safari is an upcoming animation film that is directed by Nikhil Advani and produced by Krayon Pictures. Eminent Bollywood stars, Govinda, Sunil Shetty, Akshaye Khanna, Urmila Matondkar, Boman Irani and child artiste Sweeny Khara have lent their voices to the animated characters in the 92 minute film, which is to be released on 26th August.
The film opens with a bright sunny morning in a national park, with Sultan and his cub playing by the lake. The peaceful milieu is disturbed by a distant thunder. Sultan soon finds out that man and his machines are destroying their jungle to make way for big buildings. Sultan dies fighting to save his home and habitat. All the animals of the jungle gather that night to discuss their fate, with most of them convinced that there is little that they can do to save themselves but to move to a safer haven.
But Bajrang, the rebellious monkey thinks otherwise. He wants to fight the humans and stop them from taking over their homes. But the cool headed and practical, Bagga, the bear has a more civilized solution. He suggests that they can sort the issue peacefully, by talking to the humans. But then they have a problem there as no one can speak the language of humans. Air India, the pigeon recommends Alex, the talking parrot who can come to their rescue.
Hopeful that Alex will help them, Yuvi, Bajrangi, and Bagga plan to kidnap Alex from his luxurious golden cage, but are in for a shock when they realize that Alex hates animals and loves humans and is not much interested in helping the animals. But finally Alex agrees to help them as he decides to take up the issue in the parliament. Thus an interesting group of five animals embark upon a journey from Mumbai to Delhi with a message. A message that they discover not only plagues their homes, but the homes and lives of thousands of other animals on the way. The journey across the country becomes a journey where enemies become friends and a family comes together to fight for what rightfully belongs to them – A HOME
Watch Delhi Safari Trailer at NyooTV.com an ultimate destination for web entertainment!