Tuesday, 24 May 2011 16:12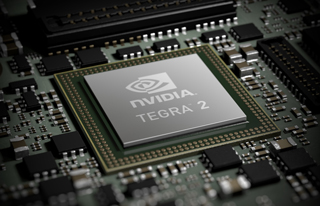 NVIDIA today announced that the NVIDIA(R) Tegra(R)2 mobile super chip has been awarded the prestigious Computex "Best Choice" award for Smart Handheld Devices Innovation from the Taipei Computer Association.
The Tegra 2 chip was selected from among more than 400 products covering every electronic-product category, including mobile devices, displays and complete computer systems. Rigorously examined by a panel of government representatives, academia, research analysts, technology editors and other experts, Tegra was selected based on overall technical merit, innovation and marketability.

This marks the third consecutive year that NVIDIA is being honored with this award, after been selected for its NVIDIA GeForce(R) GTX 480 graphics processor in 2010 and NVIDIA ION(TM) graphics processor in 2009.

The NVIDIA Tegra 2 processor is truly a super chip," said the jury of the Best Choice Award. "It has ushered in a new wave of super phones and tablet devices with never-before-seen capabilities and experiences. We selected Tegra 2 from hundreds of entries because it's an outstanding technological achievement that's impacted the industry very positively."

"It's an honor to receive this prestigious award from the Taipei Computer Association," said Phil Carmack, Senior Vice President of the Mobile business at NVIDIA. "This helps validate the very sizable investment we've placed in Tegra and demonstrates that the mobile market is significant for NVIDIA. But this is only the start. With Project Kal-El, our quad-core processor, we're planning to take mobile computing to even higher levels."

The Tegra 2 chip is built with the world's first mobile dual-core CPU - which unleashes the best Web experience, with up two-times faster browsing and support for full Adobe(R) Flash(R) Player hardware GPU acceleration, plus unprecedented multitasking capabilities. It also includes an NVIDIA GeForce GPU - which provides stunningly rich visual experiences and console-quality gaming.

Tegra 2 chip has ushered in a new wave of super phones and tablets, creating new mobile experiences and never-before-seen content. This new wave includes the award-winning LG Optimus 2X and Motorola Atrix 4G super phones and Android 3.0 (Honeycomb)-based tablets such as the Motorola XOOM, LG Optimus Pad, Samsung Galaxy Tab 10.1, Acer Iconia Tab A500, ASUS Eee Pad Transformer, and Toshiba Honeycomb tablet.