Wednesday, 11 May 2011 12:07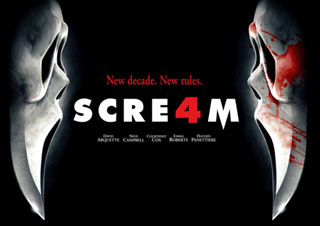 Prime Focus has contributed over 225 VFX shots for Wes Craven's latest slasher film Scream 4. Utilizing its 'Global Digital Pipeline', Prime Focus was the sole VFX vendor on the show, delivering over 180 VFX shots out of India and 45 shots out of its Vancouver facility, which also handled quality control and client review.
Scream 4, the fourth installment in the Scream series, revolves around the residents of small-town Woodsboro who are haunted and tormented by a masked killer named Ghostface.
"Scream 4 marks my second collaboration with Prime Focus and I will gladly work with their LA and Mumbai teams again. Our show required over 200 shots of all varieties under very tight deadlines. Prime Focus consistently presented seamless, convincing VFX with impressive turn-around time. They generated images that always greatly enhanced my story-telling. I knew that I was in excellent hands with Prime Focus." said Wes Craven, Director.
"We are delighted to partner with Wes Craven again after the 3D conversion work we completed for him on 'My Soul to Take'," said Merzin Tavaria, Chief Creative Director, Prime Focus, India. "Delivering a project of this level out of India was a true challenge, but with our 'WorldSourcing' business model we could closely collaborate with our Vancouver facility to ensure timely delivery of the best quality visual effects."
Merzin continued: "Scream 4 being a slasher-thriller movie, it was essential that the shots looked very real and frightening. Our main aim here was to attain the director's vision of creating a hair-raising thriller, and to live up to the legacy of the first three movies, for the worldwide audience."
Reupal Rawal, Senior VFX Supervisor, Prime Focus, lead a team of 60 artists who contributed over 180 VFX shots out of the company's state of the art global headquarters in Mumbai.
Talking about project, Reupal commented: "Most scenes in the movie were shot with a retractable knife or with no knife at all. The Prime Focus team worked on creating a CG knife in some places while for other shots the existing knife was enhanced and replaced, complete with the required glints and blood stains to make it look even more terrifying."
The team at Prime Focus undertook extensive research understanding each shot before executing it. Various references were studied to assimilate the way a fresh injury or wound would look, the properties of blood and the colour of blood stains on a knife. Each shot in the film was treated separately to make sure the sequence was overall very scary and convincing.
One of the most challenging shots was the scene in which Sidney's publicist is murdered in a hospital parking garage, and then plunges down onto the roof of a news van. For this scene Prime Focus not only enhanced the fall but also generated the nonexistent parking lot as a matte painting, adding elements like cars to give it a more authentic touch.
Talking about the shot, Reupal said, "This was one of the most challenging shots in the movie. We went through various stages of pre-visualization to understand the pattern of how the victim would fall from the parking garage on to the news van roof. In addition to generating the parking lot, our work also involved creating the metal roof. Originally the scene was shot with shooting props so we created the whole metallic roof, matched the texture, lighting and created the dent caused by the victim's fall. We also used CG to enhance the blood on the metal roof and to show the victim's twisted leg from the impact of the fall."
"Scream 4 is a great example of Prime Focus' ongoing international approach to visual effects," said Jon Cowley, VFX Supervisor, Prime Focus Vancouver. "Collaboratively we delivered 225 shots that ranged from gore enhancement to CGI knives to traditional rig removal and the full gamut of compositing work - all in four months. Wes Craven and his team were thrilled with the quality, quantity and speed at which our Mumbai and Vancouver offices were able to deliver his shots for this classic horror film franchise."