Friday, 03 June 2011 17:55
Prime Focus Productions is delighted to announce the appointment of Richard Woolfe to the role of Creative Director.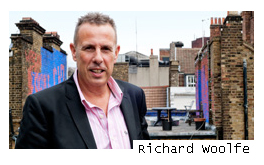 Richard joins the company with a heavyweight pedigree, having previously held the positions of Channel Controller at Five and Director of Programmes for Sky1, 2 & 3. He will be working closely with Prime Focus Productions Managing Director Rod Brown in developing new entertainment and drama programming, as well as overseeing the current slate of material which includes Terry Pratchett and Neil Gaiman's cult classic 'Good Omens', and a range of other projects with international broadcasters.
The appointment of such a senior broadcast figure is a clear statement of intent from the company, demonstrating the ambition of Prime Focus Productions' plans, as well as fulfilling their launch promise to attract the industry's best to the company. In 2009, Richard guided Five to become the only terrestrial channel to grow its share in the market despite enormous budget cuts, and was responsible for the relaunch and rebrand of the channel, which saw its greatest ever reach figures and highest share figures for key programmes and day parts.
As Director of Programmes at Sky1, 2 & 3, Richard overhauled the entire channel brand, and oversaw the acquisition and development of award-winning US dramas, including 'Lost' and 'Prison Break', and home-grown entertainment and drama formats including 'Ross Kemp on Gangs'. The sumptuous production of Terry Pratchett's 'Hogfather' – on which Richard and Rod Brown worked together - marked a new era of domestically produced drama for Sky, entertaining audiences of over 2.8 million and securing Sky1 its first ever BAFTA. In 2008, Sky1 was named Broadcast's Best Digital Entertainment Channel under Richard's leadership.
Prior to his tenure at Sky, Richard was Channel Controller of Living TV, and acquired smash Atlantic successes like 'Will & Grace', 'America's Next Top Model', and 'Queer Eye for the Straight Guy', and commissioned flagship show 'Most Haunted' amongst others.
"I am thrilled to be joining Prime Focus Productions," said Richard Woolfe, Creative Director. "I share the passion and vision of Simon and Rod to create a truly global entertainment and drama content brand. I love the can-do-let's-make-it-happen attitude of the entire company and I cannot wait to bring exciting new and genre-busting programming both here and around the world."
"I've worked with Richard in the past and I'm thrilled to have him join us," said Rod Brown, Managing Director, Prime Focus Productions. "Appointing someone with Richard's pedigree in Production and Commissioning delivers on the promise we made when we set up Prime Focus Productions five months ago - to have the best in the industry working together to create superlative entertainment content."
Also joining Prime Focus Productions is Commercial Director of Production Lynn Lugsden, former Commercial Manager at Tiger Aspect Productions. Lynn will oversee the management and exploitation of the Prime Focus Productions brand.
Simon Briggs, Managing Director UK of Prime Focus, commented: "I am extremely excited to have Richard and Lynn join us at this pivotal moment in the evolution of Prime Focus Productions. Richard's track record speaks for itself and he will undoubtedly have a huge impact on the Creative output of the Production division, whilst Lynn is just the right person to drive our commercial strategy."
"Our aim for Prime Focus Productions", Simon continued, "as with all our businesses worldwide, will be to exploit our global footprint, leveraging production and post production services in territory in order to deliver high quality television programmes to broadcasters around the globe. We have a fantastic slate and a tremendous, growing team and the future is incredibly exciting for the Production arm of our business."