Monday, 25 July 2011 16:46
Singham was released on 22 July 2011 in more than 1500 screens including 961 UFO Digital Cinemas across India.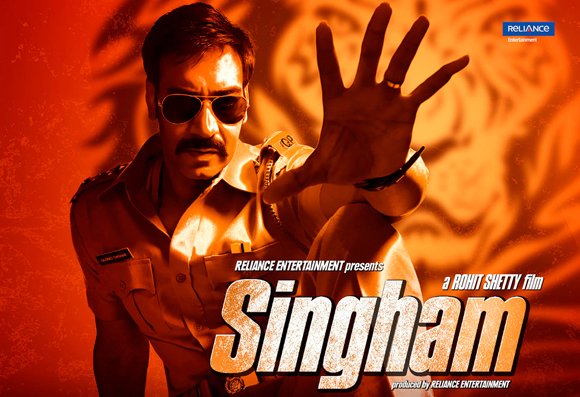 Starring Ajay Devgn and Kajal Aggarwal, Singham a 2011 Bollywood action film was directed by Rohit Shetty and produced by Reliance Entertainment. Following the success of its original Tamil version 'Singam' directed by Hari featuring Suriya and Anushka Shetty, Reliance Entertainment has duped the success again in its Hindi version. Produced at a budget of 35 crore INR the gross revenue of the film have crossed 31.07 crore in first three days.
Singham is a story about an honest and diligent sub-inspector Bajirao Singham (Ajay Devgn) who fights against Jaykant Shikre (Prakash Raj) a criminal politician from a small village named Shivgad located in the border of Maharashtra and Goa.  Kavya (Kajal Aggarwal) visits the village along with her father on a vacation and fells in love with Bajirao Singham. As usual the protagonist fights against the evil and protect the law and order along with his love.
The advantages of security against piracy and the cost effectiveness over traditional printing have made digital distribution the spine of theatrical release these days. Either it's a low budget independent film or a multi crore extravagant; digital medium had become a core contributor along with traditional print medium.
In case of Singham, it is said to be the second largest digital release made by UFO Digital Cinemas after their recent successful distribution of Salman Khan's blockbuster movie READY, which was released on 1000 digital screens.
UFO is known to be the only company in the world delivering MPEG - 4 High Definition content for Digital Cinema via satellite. The Company has revolutionized the way films are distributed and exhibited through its pioneering technology, infrastructure and unique pay per show business model, bringing in a 'First Day First Show' regime for film distributors and cinema owners.
Recently UFO has also rolled out their 3D initiative and will be converting 1250 3D enabled screen in the country by 2013 opening larger business prospects for the Indian Film Industry and giving audiences a wider range in entertainment. UFO Moviez also pioneered the concept of alternative content and was instrumental in bringing the Indian Premier League 2010 cricket tournament LIVE in around 700 theatres on a pan India basis in High Definition with the Finals and Semi-finals being screened in 3D.