Wednesday, 01 December 2010 10:29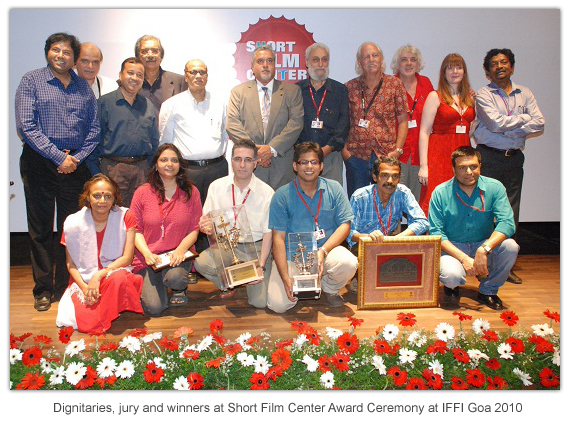 Mr. Vijay Mallya graced IFFI Goa 2010 today with his presence as Chief Guest for the Short Film Center Awards. The "Golden Lamp Tree Award", which carries Rs. 5,00,000 prize money went to "Extinction II" Directed by Fernando Uson Fornies. The "Silver Lamp Tree Award" carrying prize money of Rs. 3,00,000 went to "Kusum" Directed by Shumona Banerjee. The Vasudha Award, India's only Government Award for an environmental film carrying prize of Rs.3,00,00 went jointly to "Kaippad" Directed by Mr. Babu Kambrath and "Niyamgiri You Are Still Alive" Directed by Ms. Suma Josson. "Special Jury Mention Award" carrying prize money of Rs. 2,00,000 was conferred on "Charulata…A Sequel of the Life Untold" directed by Ms. Sangeeta Padmanabhan and "Certificate of Appreciation from the Jury" went to "Incurable India" directed by Mr. Umesh Aggarwal. Speaking at the Award ceremony, Mr. Mallya said, "Congratulations to all the winners. I and UB Group have ensured that creativity, entrepreneurship and youth should always be encouraged. I personally believe that Short Films play an important role in development of a nation, dissemination of information and most importantly bringing to light voices of underprivileged communities."

Mr. Manoj Srivastava, Chief Executive Officer, Entertainment Society of Goa "We are grateful to Mr. Mallya for taking out his precious time to attend the Award ceremony. His presence will surely go a long way in encouraging short film makers and spreading awareness about the importance and contribution of short films to Cinema."

Mr. Mallya's United Breweries (UB) Group is one of the major sponsors of IFFI Goa 2010, with various Kingfisher beer counters being set up at the venue, as well as the huge 'Kingfisher Village', where entertainers put up dance and live music performances for the people of Goa.

The Short Film Center (SFC) is an exclusive initiative of Entertainment Society of Goa (ESG), whose main objective is to frame an entertainment policy to help cultivate Goa into a world-class international entertainment nerve center of the country. The aim of SFC is to bring together short film makers, buyers, festival organizers and funding agencies on a collaborative platform. SFC has two broad categories under it, namely, International Competition Films which will have 20 films from across the world, and Environmental Competition Films which will have 10 films from across India. Awards for Short Film Centers include The Golden Lamp Tree Award (Rs. 5,00,000), The Silver Lamp Tree Award (Rs. 3,00,000), a third prize with a cash award of Rs 3,00,000 and the prestigious Vasudha Award, India's only government award for an environmental film. A Special Jury Award awaits a director for his individual artistic contribution.