Monday, 06 June 2011 19:31
Zapak Tambola is the first Housie game on Facebook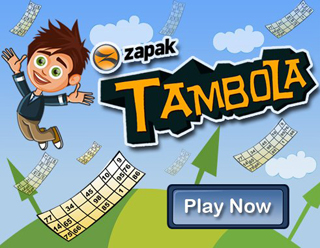 Zapak.com, India's leading gaming portal today announced its foray in social gaming with the launch of World's first Housie game on Facebook called Zapak Tambola. This is Zapak's first social game on Facebook which is an independent application with complete social integration.
Zapak Tambola is a version of a very popular game called – Housie, played in clubs, parties and other social get-togethers across India. The multi-player game allows players to chat with each other from the same room and also send and exchange virtual gifts. The exciting part is that unlike the offline game, Zapak Tambola allows players to experiment with different avatars which they can show off. The advanced Avatar feature is a first in synchronous (games where players play live with each other) games on Facebook.
How to play? It's simple. Users have to log on to - http://apps.facebook.com/zapaktambola/ and choose a room from the lobby to play in. The rooms are with variable ticket prices appealing to both players who like to play it safe and the ones who love to win big. Then the user buys tickets to participate in the game. Numbers are called out randomly by the Tambola Host and crossed automatically on the ticket purchased. The winners are the players who claim first on the numbers getting crossed out in a particular pattern (Jaldi 5, Top, Middle and Bottom Rows, Full house).
Features of the game:
Zapak Tambola is a multiplayer room based game. And has social features like chatting and gifting presents to friends and counter parts.
The game follows international standards of gameplay and can be enjoyed by users from around the world
Avatars – Users have an array of options to customize and create unique avatars for themselves which helps them stand out from the crowd.
Virtual Currency – TCoins and TCash are the two currency options available to play the game. This currency can be used for buying tickets and customizing avatars. Multiple payments options are available to buy Virtual currency.
Gaming today forms a significant part of Facebook worldwide with engagement not limited to only catching up with friends but largely playing social games. Out of 26 million active users on Facebook from India, approximately 5-7 million of them play games on Facebook every month.
Speaking on the launch of Zapak's new and unique social game, Manish Agarwal, Chief Operating Officer – Reliance Entertainment - Digital Business, said – "We are extremely thrilled to have launched Zapak Tambola. Housie is the most played party game in India and lends itself perfectly into a social game. Our main objective with Zapak Tambola has been to create an easy and popular game which can be enjoyed by users equally irrespective of their age. Facebook has an untapped opportunity of Indian themed social games and we hope to tap it aggressively."
So log on to http://apps.facebook.com/zapaktambola/ and start gaming!