Friday, 13 May 2011 07:49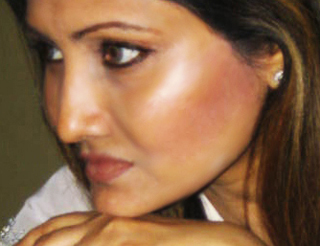 During the 54th Venice Biennale, 2011, Nandita Chaudhuri will be representing India with yet another prestigious foray at Venezia, Scoletta of San Giovanni Battista adjoining the church of the ninth century. The venue is located 10 minutes from San Marco, on the route leading to the gardens of the Biennale. The Venice Biennale is the world's most prestigious exhibition of Contemporary Art, having started in 1895. While India now has its own pavilion for the first time, in yet another location not more than a 10 minutes walk away, Nandita Chaudhuri has been earmarked alongside '53' countries, to represent India, during the Biennale d'arte di Venezia. Nandita Chaudhuri has been selected by a panel process and by Director Tatiana and Curator Paolo Dogà; represented by Studio ArTe Carapostol.
The selections had initially been for the PreBiennale exhibition at Venice from May 13th - 20th. However through a further short listing and filtering process, she has been invited to show her works at the prestigious International Exhibition of Contemporary Art, during the 54° Biennale d'arte di Venezia in June from the 18th to the 25th at the Scoletta of San Giovanni Battista. This venue had housed The Macao Museum of Art (MAM) China' at the 53rd Venice Biennale. Nandita will now showcase two of her major, new works, titled "The Islands have Shifted" which has been inspired by the fragility of human and land mass when confronted by forces beyond control.
The works:
In this series she explores the boundaries and limitations of space while probing deeper within its precincts, to render all physical and emotional space as entities that are erroneous. Her works bring forth the 'real' anxieties and violations within this spherical context. Although the space does not really exist, the turmoil within this ethereal ground is 'real' and the subject of inspection. She further deconstructs as she exposes the frailties within, especially when in the face of the unknown. Her works deconstruct and reconstruct as they rearrange accepted norms and idioms. They bear a distinct transnational language borne out of her mixed influences; which she articulates through mediums of painting, installation and film.
Awards & Recognition:
As an Indian artist residing and working abroad, Nandita's work has been well received by many esteemed art institutions. She holds an endorsement from the Royal Academy of Arts, London, which described her works as being transnational with an exceptional confluence of British and Indian influences. Her recent works include a selection in 2010 for London's biggest public art auction in history, 'The Elephant Parade' where her lifesize elephant 'Boogie Woo' stood languidly at Soho Square for three months while several editions of miniatures of her works were sold at Carnaby Street and Selfridges. She was also shortlisted for the Threadneedle prize by the Mall Galleries, London 2008.
In September 2009, her works were exhibited in the London underground poster show, at the Gloucester Road Station. She has had a solo show in 2010 at the Art Alive Gallery, Delhi, Titled 'Retinal Residue' exhibiting paintings, film and installation. She participated at the Florence Biennale (2009), Vyner Street Gallery (2009), London, Frieze Art Fair, London (2009), Lapidarium National Museum - Common exhibition project of Czech Baroque Foundation and Brooks Gallery, Prague (2009), the Art Prague Fair, Prague (2009), Royal Academy Summer Exhibition, London(2009), Special Commission-Auction - Grand Prix -Monaco( 2008),