Tuesday, 02 August 2011 10:38
Company to showcase new version with unique renderfarm-in-a-box demo at SIGGRAPH 2011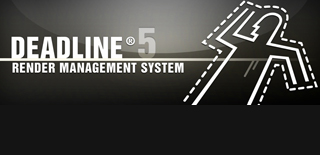 At SIGGRAPH 2011 Thinkbox Software is announcing the public beta of Deadline 5.1, the newest version of the company's popular render farm management solution for Windows, Linux and Mac OSX-based render farms. In addition to feature and performance enhancements, the new release includes integration with the Shotgun production management and collaboration system, and with Draft, Thinkbox's image templating and slating system. The software's full feature set will be showcased in demonstrations with a unique renderfarm-in-a-box configuration.
Deadline is a hassle-free administration and rendering toolkit that offers management options for render farms of all sizes, and the flexibility to run the software on a wide range of platforms and rendering packages. Because Deadline enables studios to communicate seamlessly across locations, the tool is gaining popularity among visual effects companies with massive global render farms. Version 5.1 adds:
Shotgun integration - The Deadline/Shotgun integration enables a seamless render and review data flow. When Deadline starts a render, a version is automatically created in Shotgun with key metadata. When the render is complete, Deadline updates Shotgun with a thumbnail image, paths to frames, render stats, and playback links. Shotgun then dispatches targeted notifications with links back to the work. Studios can view versions in various contexts, create reports, and organize work into playlists for review sessions where they can quickly take notes with the Shotgun Note App.
Native Python Support - Deadline now comes bundled with a native installation of Python 2.6, and the new Python .Net integration allows Deadline to run native Python scripts and load CPython modules. Any existing IronPython script can be converted to a Python .Net script, allowing studios to integrate their custom Python libraries with ease.
Multiple Slaves on One Machine - Users can now launch and configure an arbitrary number of Slaves on a single machine. Each Slave instance can be given a unique name, and can be assigned its own list of pools and groups, which allows Slaves to work on separate jobs. Now a single high performance machine can process multiple 3D, compositing, and simulation jobs simultaneously.
Database Statistics - Users can now opt to store Deadline statistics in an existing Postgres database, allowing studios to write their own queries to gather the information they need. Any existing Deadline statistics currently stored in the repository can be easily imported into the database. In addition, if the database goes offline, Deadline will write the statistics to the repository so that they can be imported into the database when it is available again.
Deadline 5.1 can harness all of the power of advanced multi-core, multi-CPU workstations with hundreds of GB of RAM. SIGGRAPH attendees will see this power demonstrated with Deadline running a renderfarm-in-a-box configuration with a variety of compositing tasks, different simultaneous 3D render jobs and simulations on a mix of Linux and Windows environments all concurrently rendering on a single machine -- an ultra-high performance workstation provided by SuperMicro. Thinkbox will also demonstrate integration with Draft, a complete facility pipeline for image tagging and templating. More information can be found at: Thinkbox Software