Monday, 27 December 2010 10:18
Television and cinema screens that produce holographic images without the need for special glasses are being developed by computer giant Apple.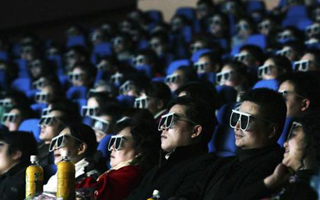 A recently granted patent reveals that Apple, the company behind the iPod and iPhone, has been working on a new type of display screen that produces three dimensional and even holographic images without the need for glasses.
The technology could be used to produce a new generation of televisions, computer monitors and cinema screens that would provide viewers with a more realistic experience.
The system relies upon a special screen that is dotted with tiny pixel-sized domes that deflect images taken from slightly different angles into the right and left eye of the viewer.
By presenting images taken from slightly different angles to the right and left eye, this creates a stereoscopic image that the brain interprets as three-dimensional.
Apple also proposes using 3D imaging technology to track the movements of multiple viewers and the positions of their eyes so that the direction the image is deflected by the screen can be subtly adjusted to ensure the picture remains sharp and in 3D.
The patent claims this technology would also create images that appear to be holographic because of the ability to track the observers movements.
It states: "An exceptional aspect of the invention is that it can produce viewing experiences that are virtually indistinguishable from viewing a true hologram.
"Such a "pseudo-holographic" image is a direct result of the ability to track and respond to observer movements.
"By tracking movements of the eye locations of the observer, the left and right 3D sub-images are adjusted in response to the tracked eye movements to produce images that mimic a real hologram.
"The invention can accordingly continuously project a 3D image to the observer that recreates the actual viewing experience that the observer would have when moving in space around and in the vicinity of various virtual objects displayed therein. This is the same experiential viewing effect that is afforded by a hologram.
Read More at: The Telegraph