Friday, 12 November 2010 08:59
Global Film Festival Noida 2010 starting from 12th to 14th November is focusing on Children Films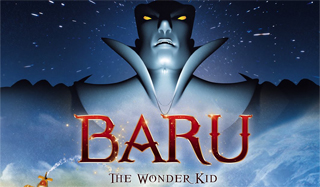 Animation film 'Baru-The Wonder Kid' is all set to Premiere on 13th November at the '3rd Global Film Festival' at Noida. Instead of the theatrical release, producers Vishnu Manohar and Prabhakar Shukla have decided to hold the first screening at this festival which is dedicated to good children's films from across the world. Later the film will be brought to theatres.
Comments one of the producers Prabhakar Shukla,"We have decided to push the theatrical release further after seeing the market reaction for recently released animation film Ramayan. Now we will be bringing the film through a different route. 3rd Global Film Festival at Noida's focus is children's films.

"We have many children's film by international directors getting exposure through this festival. Amongst the Indian films, 'Baru-The Wonder Kid' is Premiering while other three Indian entries are Mr India, Aasmaan Se Gira and Blue Umbrella. It's definitely a very good and appropriate platform for us" Informed Sandeep Marwah, the festival President.

'Baru-The Wonder Kid' is one of the few animation film that is getting a very positive response from various festivals across the world. After the premiere at the 3rd Global Film Festival, which is showcasing many films from Japan, Russia, Iran, France, Italy, Spain etc, the film will move onto other International films festivals before its theatrical release.
Presented by Shri Vishnu Entertainment & Lemon N Yellow Productions and produced by Vishnu Manohar and Prabhakar Shukla (of Kahani Ek Gudiya Ki fame), 'Baru-The Wonder Kid' is directed by Sachin Gote. The story revolves around a twelve year old orphan boy Baru and his courageous journey to free his sister, Anannya (fondly called as Ani), from the clutches of the Devil Prince-Zukayu.

The film's music is by Vivek Prakash while lyrics is done by Madan Pal. Dubbing for various animated characters is done by Jagjit Singh, Avika Gor, Bhagyashree, Sharad Kelkar, Vrajesh Hirjee, Nandu Madhav (of Harish Chandrachi Factory fame), baby Anushka Shukla, Aditi Mandiwikar, Somesh Agarwal, Chinmay, Nilesh Harsora, Shalin Goyal and Princy Goyal.