Monday, 11 April 2011 12:31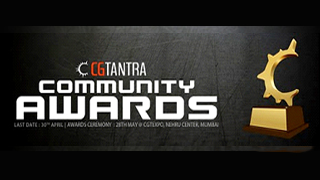 CGTantra Community Awards is back with its 3rd edition, continuing its enlightening presence at Jade Gardens, Nehru center, Mumbai on 28th May'2011 evening. CGTantra Community Awards 2010 saw great success, it was well received by the AVGC fraternity. Taking cue from the popularity, CGTantra Community Awards enters 2011 with greater enthusiasm and zest.
CGTantra Community Awards is an initiative towards recognizing and honoring the best of the artists. CCA unlike other awards of the industry aims towards recognizing the excellence in different aspects of art forms of Animation, VFX and Gaming Industry and the industry has come forward supporting it with prizes worth Lakhs. Unlike other awards it is purely targeted towards rewarding the individual talents of a particular department. We aim towards putting a spotlight on the ones who have been doing an extraordinary job in a particular field and inspiring others to raise the bar of their art and knowledge.
CCA comprises of a whirlpool of distinctive categories like Matte Painting, Digital Painting, Character Model, Game Artist, Architectural Viz, 3D Digital Illustration, Animator, Showreel CG/VFX- Individual, ARTT War Awards [Online Students Team Contest], VFX War Awards [ Online Team Contest], Live Action Short Film, Animation Short Film - Student, Animation TVC/Short Film -Studio/Professional, Experimental Animation Short Film, VFX in TVC, VFX in Feature Film...
CCA 2010 saw innumerable amount of brilliant entries flowing in from all across the globe with as good as 600-700 entries making their way to enter nominations for CCA. CCA is fortunate enough to have had an illustrious panel of jury in its previous years featuring names like "Abhishek Singh : Animation FilmMaker & Graphic Novelist", "Charu Clark : Lighting Technical Director, Pixar Animation" , "Dhimant Vyas : Veteran Animation Film Designer who designed title sequence of Taare Zameen Par" , "Mark Zaslove : Writer, Producer, Director, Content-Developer for studios like Disney , Universal&Warner Bros" , "Piyush Patel : Founder and CEO of Digital-Tutors", "Prem Moraes : Solutions Engineer at Autodesk", "Biju Dhanapalan : VFX Pioneer in Hindi film industry including VFX for 3 Idiots being the recent one" , "Pavan Buragohain : Independent Animator and Illustrator, Creative Director of upcoming UTV Feature 'Arjuna' ", "Sanjiv Waeerkar : CCO, MAAC and had founded UTV Toons" , "Steve Wright : Senior visual effects artist, public speaker, published author, writer including film credits of Traffic , batman&Robin etc" for embracing CCA with their constant support.
CCA has been thankful to its Prize Supporters of previous years for understanding the essence of these awards in its truest sense by contributing with their constant support and participation in felicitating the Winners. CCA has been proud to have brands like NVIDIA , Pixologic , ZBrush , Corel , Aditya Infotech , Evermotion , Digital Tutors , E-On Software , TopoGun , 3d.sk as prize supporters for CCA 2010.
Take a look back to the CCA 2010 Winners, the winners had a lot to say about their experience in participating for CCA 2010 last year. As Ashwin Chikerur - Winner of Digital Painting&Concept Art puts "It's good to see CGT playing a catalyst's role in networking of students, professionals and industry experts" , Vaibhav Studios talks about their experience in participating at CCA 2010 "I have enjoyed myself in both the past CGT expos. Its like a fair that brings the entire community together."
CGTantra Community Awards 2011 promises a yet another enriching experience to all its participants and its jury members as well as the ones present to witness the starry night of 28th evening as CCA felicitates "THE PIXEL MASTERS" of AVGC industry. Call for Entries have begun for this year , the last date being 30th April'2011.
CGTantra Community Awards can now be easily accessed through its new site( http://cgtantra.com/cca/ )  that has all the information pertaining to the awards. It also provides a pictorial glimpse into last year's event and would keep getting updated as and when we attach more strings to the event..
For any further information regarding the same, you can write to This e-mail address is being protected from spambots. You need JavaScript enabled to view it or call at 022 28688234.