Wednesday, 30 March 2011 08:59
UFO 3D Theatre and Demo Suite plans screening of the latest 3D content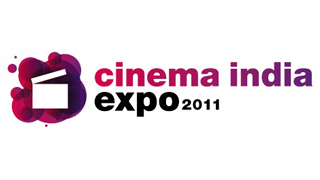 Cinema India Expo 2011, the only Hollywood – Bollywood event of its kind, has announced the participation of UFO Moviez India Limited (UFO), in its eleventh edition scheduled on 24th and 25th June, 2011 at the Renaissance Convention Centre, Powai, Mumbai. UFO will create the UFO 3D theatre where the latest 3D content will be screened during the course of the two-day conference and trade fair.
UFO Moviez specializes in delivering MPEG–4 High Definition content for Digital Cinema via satellite. It is one of the largest networks in the world delivering digital cinema over satellite with more than 2300 installations in India and Nepal. UFO has created an end-to-end Digital Cinema Solution supporting the film distribution and exhibition system and has brought in a 'First Day First Show' regime for film distributors and cinema owners, through its pioneering technology, infrastructure and unique pay per show business model. UFO is associated with Apollo International Limited, a part of the USD 1.5 billion Group Apollo.
UFO has rolled out its 3D initiative to convert the existing 2D screens to 3D screens in India, significantly expanding business prospects for the Indian Film Industry, while offering audiences a wider range of entertainment. UFO played a key role in bringing the Indian Premier League 2010 cricket tournament LIVE in HD to 700 theatres across India with the Finals and Semi-finals screened in 3D. UFO is planning on bringing more 3D screens and is commercializing its technology to the theatres in India, to deliver flexible, efficient, and cost-effective 3D Digital Cinema Systems. UFO plans to roll out 1250 screens by 31st March, 2013.
Kapil Agarwal, Joint Managing Director, UFO Moviez India Ltd. noted, "We are extremely thrilled to be associated with Cinema India Expo 2011 as it is a platform leading to innovation, value and choice for the Indian film industry. India is gearing up for a digital transition and we believe that such forums provide the platform for focused and directed change. UFO is proud to showcase its game changing 3D capabilities and innovative business model at this forum giving all a slice of the new wave of change in technology."
For over a decade, Cinema India Expo has been India's leading trade show and conference for the digital cinema industry in India and worldwide. It is a two day gathering of the global digital cinema community for face-to-face product exploration, networking, and creative content programming that addresses digital cinema in India and around the world. Formerly held in conjunction with PALM Expo, Cinema India Expo has now grown significantly and will be presented separately beginning from 2011.
As the thriving Bollywood production community presents and creates an increasing amount of 3D content, Cinema India continues to lead the industry with information from experts and insights into the latest environments for these evolving technologies.
Scrabble Entertainment, India's first 2K DCI Compliant Cinema deployment entity, is the presenting sponsor of Cinema India Expo 2011. Complementing the excitement and success of Scrabble Digital Initiative and Cinema India Expo in 2010, Digital Cinema in India is back to experience a transformation in a bigger and broader Show. Scrabble Entertainment has grown significantly in the Digital Cinema Industry in India and is proud to be affiliated with Cinema India Expo 2011. Ranjit Thakur, CEO, Scrabble said, "Since Scrabble is the only 2K DCI compliant entity in India and UFO Moviez has the largest non-DCI cinema platform, we are glad to come together to represent the industry and escalate our businesses to an all new level. Forums such as Cinema India Expo and the Scrabble Digital Initiative are the perfect impetus to the business."
Createasphere, headquarted in Los Angeles, California, returns to Cinema India Expo for the second year to manage international sales and programming. Createasphere provides multi-tiered offerings to the entertainment technology sector including expos, events, professional educational sessions, and online content resource.
UFO Moviez at Cinema India Expo is a return engagement for the company and event as UFO shares a close association with Cinema India Expo with past exhibitors and frequent participants in the Digital Cinema Conference sessions. With the UFO 3D Theater and Demo Space for Cinema India Expo 2011, UFO strengthens its long-standing ties, in support of Cinema India Expo.