Thursday, 06 January 2011 10:08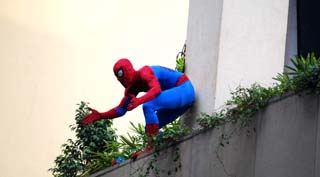 Disney XD enthralled the people of Kolkata with the first-ever live performance of everyone's favorite Marvel Super Hero - "Spider-Man" at Citi Centre 2, Rajarhat. With three spectacular house-full shows at 3 pm, 5 pm and 7 pm, Spider-Man fans of all ages got a chance to witness a thrilling, action-packed live performance and a lucky few got a special chance to strike their very own 'Spider-Man' pose with Spider-Man himself!
Power packed from top to tail starting with the dramatic entry of Spider-Man, a gravity defying downward swing, super-cool acrobatic stunts and breathtaking fight sequences, the show mesmerized kids and adults alike. A visibly excited sea of Spider-Man fans, was a sight to behold as their favorite Super-Hero saved the day yet again by protecting the "Jewel of India" from evil villains Black Cat and Electro, and showcased the victory of good over evil.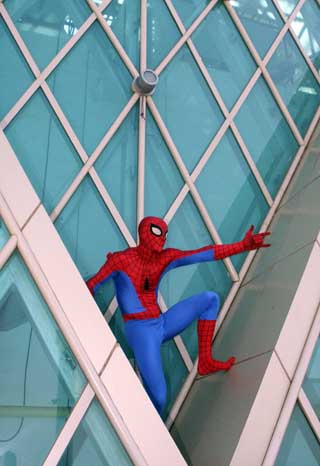 Commenting on Spider-Man's impressive shows in India, Walt Disney Television International India VP and GM, Natasha Malhotra said, "We are very excited to bring all Disney XD's Spider-Man fans this amazing opportunity to watch him perform live. This is a part of our ongoing endeavor to provide kids and families unique experiences around their favorite characters and programs."
Spider-Man made a spectacular entry into India last week, atop a Mumbai skyscraper and is all set to spin his web in other cities as well. After 11 action packed live performances in Mumbai, Ahmedabad, New Delhi and a mesmerizing Kolkata, the web slinging Super-Hero is all set to perform next at Hyderabad on January 7, 2011 during his two week India tour.
In addition to the special treat by their favorite friendly neighborhood web-crawling Spider-Man, kids were seen having loads of fun with interactive games and on-ground contests on Spider-Man trivia and their favorite shows on Disney XD such as Kick Buttowski, Dennis and Gnasher and Kid vs Kat. Lucky few also got to win cool Spider-Man goodies.