Monday, 17 January 2011 08:14
DSK Supinfocom to make their presence felt at IIT New Delhi- visit their stall at the National Conclave on 18 th January 2011.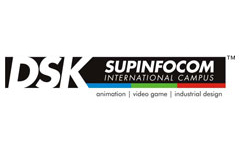 DSK Supinfocom, India's first and largest international educational campus offering professional courses in the thriving fields of Animation, Gaming & Industrial Design, is a joint venture between the DSK Group and the globally recognized French Institute-Chamber of Commerce and Industry of Valenciennois(CCIV), France. Fully equipped with all international quality premium amenities, the campus located at Pune, is spread over an expanse of 20 acres. The academic syllabus are in sync with those at CCIV and the full time faculty and trainers having international repute, hail from all over Europe and France.

DSK Supinfocom is committed to enhance creativity and talent of each and every student, by motivating them to do their best and further fostering innovation and broadening their vision and horizon.

In keeping with the mission of encouraging young artistic minds, nurtured through enriched learning and giving them a global exposure, DSK Supinfocom takes pride in participating at the National Education Conclave 2011 to be held at IIT New Delhi on 18th January, 2011.

Apart from manning an information booth/stall to represent the institute, the accomplished faculty of DSK Supinfocom will also conduct a seminar at the event. The National Education Conclave would be attended by over a hundred principal- level administrators belonging to various educational organizations pan India.