Thursday, 03 February 2011 09:34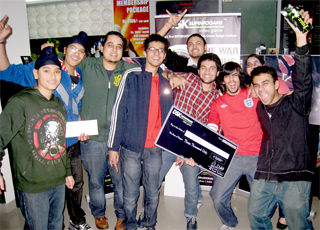 DSKSupinfogame just announced the first winner of their Register and Win I-POD offer! The Lucky Winner for the month of January 2011 is Mr. Sarthak Khire from Pune!
The annual mega gaming event, Game Kshetra, sponsored by DSKSupinfogame is slated to be held on the 25th and 26th of March 2011 with a multitude of popular Video Games in different categories like PC Games, PS3 Games or XBOX games.
The Pre-Game Kshetra tournaments were held pan India at Mumbai, Pune, Bangalore, Delhi and Kolkata. The jubilant winners got cash prizes worth Rs. 10000 and a direct walk over to the Game Kshetra 2011, Pune! The gamers got to show off their talent at the nerve wracking CS,COD, FIFA and DOTA.

DSKSupinfogame invites you to register now for the next lucky draw this month of February 2011.The winner would be announced on 1st of March 2011. Grab an I-Pod Again!
Amateurs or professionals, beginners or veterans just give your best at the ultimate test of neuro-motor abilities! Come! Show-case your skills and take away fabulous prizes worth Rs 5 Lakhs in Cash and more! Game Kshetra 2011 is every game lover's dream come true.

Brought to you by DSKSupinfogame, the Video Game School at the DSKSupinfocom campus, India's first International Institute providing quality education in the thriving fields of Animation, Gaming and Industrial Design.