Monday, 22 November 2010 12:09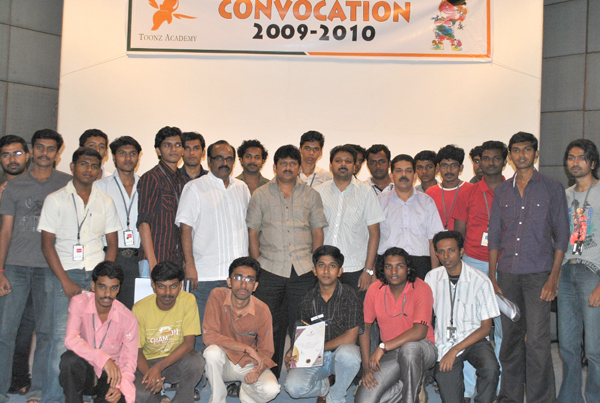 "Indian animation industry is expected to grow by 22% by 2012 to reach $1 billion mark." Said former Technopark CEO R K Nair. "According to NASSCOM estimates, the gaming industry would grow 49 per cent to reach $830 million by 2012." Mr. R K Nair said this at the convocation ceremony held for the 70 students who passed the one year full time Advanced Diploma in Digital Arts and Animation (ADDAA). The function was held at the Travancore Hall in Technopark.

Congratulating the students, R K Nair said, "Despite the difficult economic environment, the animation, gaming and visual effects industry is witnessing growth rate of over 20 per cent in India. In India animation industry is still in an infant stage. We will witness massive growth in this industry for the next 10 years. Currently there are more than 300 small medium and big animation companies employing nearly 10000 animation experts. I am sure our students who have passed out of this course today will create their mark in the animation industry. I wish them all the best for a great future!"

Noted Malayalam film director Rajasenan handed over the certificates to the students. Addressing the students, he said, "Though in its infant stages, Animation has a major role in mainstream cinema. The scope of animation is not just restricted to the cinema world but has great applications in other areas as well and it is imperative that we tap these."

Speaking at the function Hari Varma, Chief Creative Officer, Toonz Studio said "Recently we have revamped the curriculum and methodology of our diploma course to make it more relevant for the industry process and practices. Students have developed their diploma project exactly the way a project developed in a studio".

Toonz Academy is the training division of the award winning animation studio, Toonz Animation India Pvt Ltd. (www.toonzanimationindia.com). The academy was established in the year 2002 and is a fully owned subsidiary of Toonz Entertainment Pte Ltd Singapore, the parent company of the Toonz Group. The first centre of the academy was established in Trivandrum near the Technopark campus during the year 2003. Since then the academy has grown in stature with centres in Delhi, Nagpur, Hyderabad, Indore, Ahmedabad, Chennai, Bhopal, Jabalpur and Calicut. Plans are in fast swing to establish centres elsewhere in major cities across India. The academy offers 12 months Advanced Diploma course in animation. The Academy also offers a portfolio of short-term courses in animation and visual effects. Continuing its fast pace of growth, the Academy has signed MOU's with leading Chinese Universities to set up animation training centres in China and plans to expand its operation to West Africa, Middle East and South East Asia.