Tuesday, 09 November 2010 20:04
"The Mystic Evolution", the fiction based short film produced by 4th Year Students BMM of IACG depicting how Hyderabad could witness the global warming in 2012 adjudged as the Best VFX Short Film by International Animated Film Association.
Strive to produce original works.  Even if you have to die, die, but produce quality work: says S.S. Rajamouli, Film Director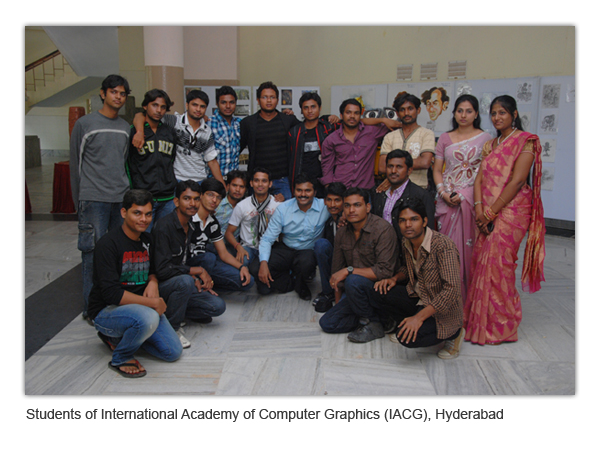 Hyderabad, 9th November 2010: Reputed Animation academy, International Academy of Computer Graphics (IACG) produced the India's first Multimedia Graduates, four years batch under regular academic program certified by a NAAC accredited University. This program is affiliated with Jawaharlal Nehru Technological University Hyderabad (JNTUH), the first technological university of India. IACG offers University recognised Graduation, Post Graduation and Finishing School programmes in collaboration with JNTU, Hyderabad.

IACG is a very reputed Animation Academy.  It has the distinct advantage of having its own production house - 4D Animations & VFX.  It's recent projects include KICK, Prayanam, Koncham Istam Koncham Kastam, Magadheera, Aa Intlo, Sare Nee Istam etc to name a few. 

INTUH signed a Memorandum of Understanding with Hyderabad-based International Academy of Computer Graphics (IACG) for collaboration to offer Graduation, Post Graduation and Finishing School programs in Multimedia in the year 2007.

24 students graduated today. In a function held in city today at RTC Kalabhavan in Baghlingampally, S.S. Rajamouli, renowned film director lauded the efforts of the IACG  in offering quality Multimedia Education. Addressing the packed gathering, Rajamouli said computer graphics are a small part of a film.  But, gradually their role is being increased. World of Art is very big. Art is not easy. Strive hard to excel. Studying Information Technology is easy. Software Path is not that all difficult. But, this is not the case with the art. You need to have original ideas. Unfortunately, we have many copy cats today. There is so much talent in us. Work hard for original works. If you are going to die, die, but never compromise on quality, he said.

Rajamouli has also appreciated the Short Film titled "The Mystic Evolution" produced  by the outgoing students of the institution.

Earlier, speaking on the occasion, D.N. Reddy, Vice Chancellor of JNTUH said IACG has excellent facilities. That is why we have tied up with them to offer various courses he said. Adding further he said that though Animation and Multimedia is a huge business across the globe, we are able to tap 1% of the potential, he informed. There is a large scope yet to tapped, he said.

D.N. Reddy told students to be creative and innovative. Creativity and Innovation can not be taught in a class room.

Speaking on the occasion Mr. P. Ramakrishna, CEO of IACG said  JNTUH was the first University in India to offer Bachelor of Multimedia as a regular stream program in the Year 2006. A step ahead, POST (Production Oriented Skills Training), a first of its kind University recognized finishing school program for Animation students was also launched during that year he said.

Speaking further, P. Ramakrishna added that the "The Mystic Evolution" bagged the best VFX Short Film Award from ASIFA India, an Indian Chapter of France based International Animation Film Association. IACG's first batch of BMM Students have successfully completed their educaitonal tenure. They have won award for fiction based shot film depicting how Hyderabad could witness the global warming in 2012. The same film was also screened for the audience at the passing out meeting.

Mr. Rama Krishna said that a career in animation offers great opportunities and lets ones creativity bloom. It is a field were work is joy and where you work on something new everyday and can leave your mark. He informed that the Indian animation industry is expected to double its revenues to nearly $1.5 billion by 2010. Despite manpower shortage, the Indian animation industry has made giant strides of late and the country has become the outsourcing hub for many western animation studios as well as for Hollywood. He said that as per survey reports India has not even occupied 1% of the Global Market. There is a vast potential for the industry to expand. Factors that are in India's favour and that give it a competitive edge are: A vast base of English speaking manpower; Presence of hi-tech animation studios; Low cost of animation services compared to other countries and India's own large entertainment sector, he added.

Today, Animation has become a part and parcel of daily life. Whatever it may be… a television shows, ad commercials, movies or games and other content on your mobile… animation is present everywhere. It has touched our lives. In fact nowadays it might not be wrong to say that no movie is complete without animation, informed Suresh, Principal of IACG.