Tuesday, 16 November 2010 12:50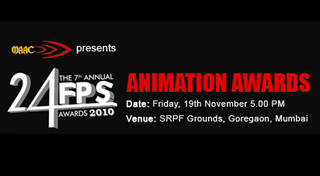 Maya Academy of Advanced Cinematics (MAAC) - leader in 3D Animation and VFX training has announced to host the 7th - 24 FPS Awards 2010FPS Awards 2010, India's most coveted biggest animation awards on 19th November 2010 to be held at SRPF grounds in Goregaon, Mumbai.

With over 600 entries from countries like China, France, Germany and the US and over 3000 animation enthusiasts expected to attend, the event is looking to get bigger and will have more professionals than ever before. The jury of 24FPS 2010 consists of more than 38 industry stalwarts from across the world.

Over the last seven years, this event has gained momentous support from the global animation and fraternity and has been a key driver and promoter of fresh animation talent in the country.
Enthralled about the forthcoming awards, Mr. Ram Warrier, Business Head, MAAC said "Our films this year are based on the theme 'Human Values' and we have introduced International Awards category in which we got a very good response from countries like France, Germany, U.K, USA, China and Pakistan. At the same time the response from all the respected academies and studios from India is far more aggressive than last year."

"24FPS has turned to an international scale with respect participation, quality, enthusiasm and the celebration and Aptech has extended its full support for the same. The participation response has gone up much higher as compared to the last year. We have got a fantastic response from academies, colleges, universities, individual professionals and all the reputed studios across the world," added Ram Warrier.

Mr. Ninad Karpe, CEO & MD Aptech Ltd. "While the animation industry is gaining prominence, awards like 24FPS Awards will bring to light some of the best work that this industry has projected in the last few years. We are pleased to present the 24FPS Awards which we feel will further spur the growth of the global animation industry."

This event gives youngsters the opportunity to get assessed by veterans and better understand industry demands. This year the awards will be hosted by Roshni Chopra and the show include performances by India's Got Talent 2009 Winner Prince Dance Group, Kapil Sharma, renowned comedian from Comedy Circus, and dance performances by Prachi Desai.

Some of the eminent jury members include Shelley Page from Dreamworks, Shesha Prasad from Rhythm & Hues, Virendra Chauhan from Paprikaas Interactive, Merzin Tavaria from Prime Focus Ltd, Viral Thakkar from Pixion amongst other industry stalwarts.

Log on to www.facebook.com/maacindia to cast your vote for the 24FPS Viewers Choice Awards, click the "Like" option under your favourite animation movie. If your voted film wins the " 24FPS Award" you get a chance to win fabulous prizes!

You can also watch the complete preview of all the nominated entries on http://www.youtube.com/maacindia.