Tuesday, 30 November 2010 08:29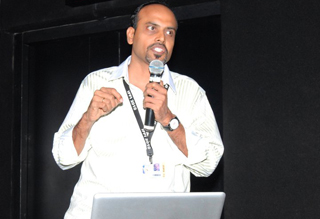 Srinivas Mohan, a much acclaimed visual effects supervisor, conducted a master class on visual effects on Sunday, 28th November at the 41st International Film Festival of India, IFFI at Goa. The aim of this Master Class was to educate the filmmakers and students on how visual effects are used in the current breed of movies, the process and workflow involved in the creation of VFX movies. The master class was an astounding success and was attended by students and reputed filmmakers from all over the world. The Master Class is a new feather in this year's edition of the festival. The concept of this event involves masters in various fields conducting classes on important areas of the field and from the response it seemed; the right master had been chosen for VFX.

Speaking to CG Today, Srinivas Mohan said, "I have been conducting similar master classes in universities and colleges." Regarding such classes in the future, Mr. Srinivas said, "If time permits, I would be glad to conduct such classes in the future, to support the initiative to spread awareness about the booming industry." As a message to all the VFX artists and students Srinivas added, "They should look at it as an art more than a tool. They should understand the art instead of just learning the software." The students, filmmakers and artists were excited to be part of this master class which provided them with the opportunity to learn the nuances and tricks of the trade from the master of visual effects himself.
Mr. Srinivas Mohan is the visual effects supervisor of the much acclaimed movie Endhiran (a.k.a The Robot) that blazed a new trail as far as VFX movies in the country are concerned. He is also the CEO of Chennai based Indian Artists, which specializes in providing animation services and visual effects. It won the 2003 Indian National Award for Visual Effects for the film 'Magic Magic 3D' and repeated the feat with its 2007 National Award for Best Special Effects for the movie, 'Sivaji'.