Thursday, 13 January 2011 08:36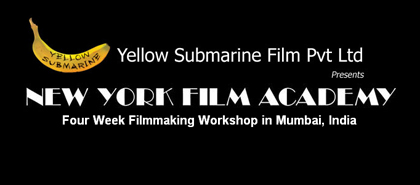 The New York Film Academy in partnership with Yellow Submarine Film Pvt Ltd, plans to conduct hands-on intensive filmmaking workshop in India in May 2011. This is the first time NYFA is conducting a workshop in India. This four-week workshop is aimed at students who want intensive training in film making from award winning faculty, using professional equipment starting their film from the first day of their class. For those who are considering sharpening their skills, this workshop would be the ideal place. This may prove one of the most challenging and rewarding experiences.
The workshop provides an opportunity to gain unsurpassed real world experience to prepare an aspiring student for a career in filmmaking. One can enroll for this workshop to get the best hands-on training instead of just reading books and attending lectures. The workshop is a full time hand on 4-week course. Last date for registering is 31st January 2011. Adds Jerry Sherlock, Director New York Film Academy, "We have successfully run workshops in over 9 countries of the world in over 16 locations. Our faculty has been traveling to various parts of the world imparting the best in class film training with the latest cameras and film equipment."
The hands-on workshop will be held in Lilavatibai Podar Senior Secondary School in Santacruz, Mumbai, India. The workshop is the first initiative of NYFA in India. According to Suniti Ghoshal, Director Yellow Submarine Film Pvt Ltd, "Several students attend classes in The New York Film Academy every year from India. This is one of the most prestigious and sought after film academies in the world and we are proud to host NYFA in India for the summer workshop"
Each student will receive a diploma at the end of the programme.