Sunday, 17 October 2010 08:28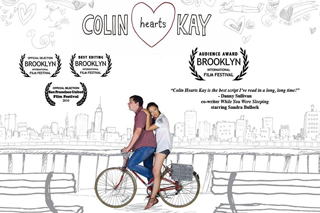 From Emmy-winning director Sebastian Conley comes a groundbreaking romantic comedy 'Colin Hearts Kay' featuring hand drawn special effects, animation and an innovative blend of live action and cartoon illustration.
Produced by Nitin Madan, 'Colin Hearts Kay' wins the Audience Choice Award at the prestigious Brooklyn International Film Festival in June, where it had its world premiere and was also the closing night film. In October, the film will play in three festivals.
The laugh-out-loud script is a Brooklyn ode to Annie Hall:  when cartoonist Colin Jenson breaks up with long-term girlfriend Kay Ho, he journeys back through a hilarious kaleidoscope of animated cartoon memories to figure out what went wrong and who was to blame.

Colin Hearts Kay is a unique, unequivocally edgy and heartwarming micro-budget gem that seeks to answer the age old question, "What is love?"

Shot entirely in Brooklyn and featuring a soundtrack of brand new music from Brooklyn bands, this indie feature is sure to capture the hearts of young audiences everywhere hungry for a film that speaks to the zeitgeist of a new generation.
Special Effects and Animation

The numerous effects and animated sequences in Colin Hearts Kay were created entirely by one person: the writer/director Sebastian Conley.

Using both traditional hand-drawn animation techniques and the latest in desktop software technology, Sebastian brought the illustrated world of Colin's cartoon fantasies to life single-handedly.  Sebastian's experience as an Emmy-winning animator and freelance cartoonist informed both the narrative storyline and the execution of this unique visual style.

Colin's drawings swirl to life around him as he professes his love to Kay.  When the couple fights, it's illustrated as a cartoon gladiator battle.  Animated flying cartoon hearts and transitions that 'draw' and 'erase' from the screen unify the action and combine to present an entirely new visual look that's at once captivatingly imaginative and unprecedented.
Nitin Madan, co-founder of Got Lucky Pictures, is known best for his documentary work for television. In New York since 1998, he has written five feature length screenplays, written and directed two short films and is currently producing a documentary on French architect Le Corbusier's work in Chandigarh, India.
Colin Hearts Kay's Official website: http://www.colinheartskay.com/main.html