Saturday, 08 January 2011 08:36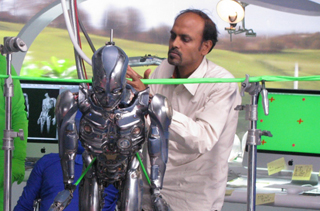 Srinivas Mohan, CEO of Indian Artist, Chennai has bagged the Best Special Effects Award and Special Jury Award for spectacular cutting of age technology for the film Robot (Hindi) at the 17th Annual Star Screen Awards held Thursday at Mumbai.

The 17th Star Screen Awards was a star studded event with wonderful performances from Bollywood bigwigs. While Katrina Kaif grooved to Sheila ki Jawani Priyanka Chopra and Bipasha Basu also sizzled on stage. The show was anchored by Shah Rukh Khan along with Shahid Kapoor.
There were 4 films nominated under Best Special Effects category. These were Toonpur ka Superhero, Dabangg, Robot & Prince. The competition was tough between these four films as the expertise and creativity have taken a new vertical compared to previous years.

Speaking with CG Today Mr. Srinivas Mohan said, "It's team work and the credit goes to all the artists and technicians of the team. Without the support of the whole team, Shankar the director, Randy the cameraman, Sabu Cyril the Art Director, Antony the editor, all the partner studios, artists and their technicians, super star Rajnikanth and ultimately the production house, Sun Pictures, it would not have been possible to make such a film.
"I am happy to be part of such a wonderful team and we are excited today to celebrate the 100th day of the same film", added Srinivas Mohan.

Recently, Indian Institute of Management – Ahmadabad (IIM-A) have had added Robot under their curriculum, as an elective course called 'Contemporary film industry: A business perspective' for the second year students of Post Graduate programme. Star Screen Award is the first award received by the most commercial successful film.

It is certain that this film creates a benchmark for the Indian VFX industry. Hope the animation and visual effects' training schools prepare a 'making of' manual of this film to help expose Indian students to the spectacular cutting edge technology used in this film!