Friday, 22 October 2010 08:51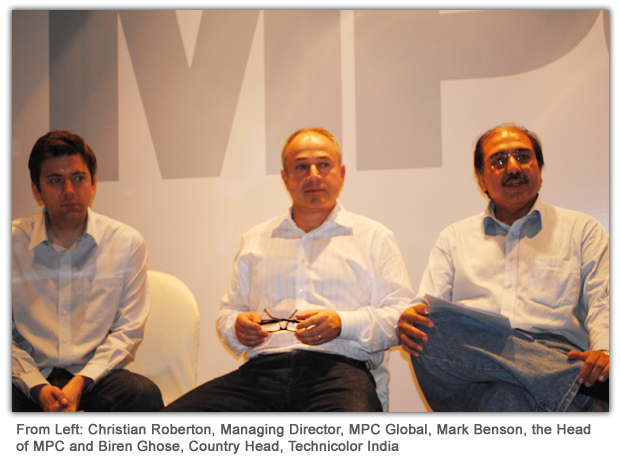 World leading VFX studio The Moving Picture Company (MPC), a Technicolor subsidiary, kick started its Indian chapter as it announced a spectacular new VFX studio in Bangalore, India. Bangalore facility will be one of their jewels in the crown following Soho - London, Santa Monica - CA and Yale town – Vancouver and making it as a clear cut indication of expansion on the part of the company. MPC surely wants to tap international market and talent to increase their production network.

MPC Bangalore target to work with 150 artists by the end of November, 2010 who can deliver content that matches their standards. Mark Benson, the Head of MPC, Christian Roberton, Managing Director, MPC Global and Biren Ghose, Country Head, Technicolor India were present at the launch of MPC Bangalore.
MPC, which is known for its astonishing quality, wants to stick to deliver the same kind of work as an end product from its Bangalore studio. MPC Bangalore has already started looking for new creative artists from several colleges in and around Bangalore. They are in talks with training schools that deal with art, VFX and films. Biren Ghose says that, "Till now 23 students have been mentored and will be given full-fledged production training even after they join the company, with the help of Frameboxx we have started working on the incubation efforts."

"This is not something that we are doing only in India, we have been also doing this for our London facility where we trained students from France, Germany, Italy and other countries," MPC Managing Director Christian Roberton added.


MPC Head Mark Benson shared, "There is an enormous amount of work that needs to be delivered in limited period of time. In reality there are number of businesses that can deliver that work, but how effectively and realistically can they be delivered is an actual challenge."

MPC aims to increase its business globally and they don't want to do it by outsourcing their work. "Outsourcing will not suffice our requirements. We want to make commitments and stick to them, which is not possible through outsourcing. Moreover, by opening a physical studio it will open up new opportunities which we could tap in and explore. We are here to stay and to make long term commitments," said MPC Managing Director Christian Roberton.

Adding to Mr. Roberton, Mark Benson said, "We are not here in outsourcing context but MPC Bangalore will be seamlessly a part of the MPC Family. We have 130 artists working with us. With the support of Technicolor from an Infrastructure, Technology and Investment perspective, we are here and absolutely committed to excellence and passion as MPC in London and Vancouver."

Christian Roberton further said that, "The artists here in Bangalore will have full access to all our proprietary toolsets at MPC. This is an artist focused group that we have. Bangalore will be majorly film business focused, with 105 of the artists being involved in the film side while close to 25 artists will work on the commercials part of the business."

Apart from working for films, MPC will also work in the advertising sector and make print, TV and web ads from its Bangalore centre.

On asking about whether MPC will be interested in Indian film industry, Benson replied, "Absolutely we would like to work with Bollywood and I don't see any reason for not working with them. It is basically a global world now where we are open to merging anything with everything."

MPC leads the world in post production and visual effects for the Feature Film, Advertising, Digital and Television industries. MPC has worked with films like Harry Potter and the Half Blood Prince, Prince of Persia, Robin Hood, Clash of the Titans and Sucker Punch. Their 2010 release includes Percy Jackson and the Olympians, The Lightning Thief, The Wolf Man and Pirates of the Caribbean. MPC have recently been awarded sequences for the fourth Pirates of the Caribbean movie.

MPC Bangalore officially opens on October 21st 2010 and will be run by Akhauri Sinha. Akhauri Sinha joins MPC from Nimbus Communications, where he was Executive Vice President and Head of Filmed Entertainment. Before that, Akhauri Sinha was part of Percept Picture Company and UTV Software Communications, working on feature films, television and animation.