Friday, 12 November 2010 08:08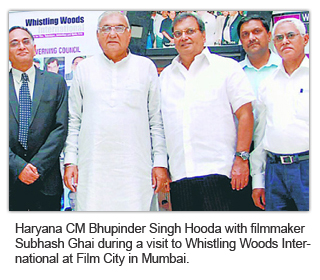 Whistling Woods International (WWI), the Mumbai-based institute for film, television, animation and media arts would open another institute at Jhajjar in Haryana. This was stated by noted film director and chairman of WWI,Subhash Ghai while interacting with Haryana CM Bhupinder Singh Hooda during his visit to the institute in Mumbai. Hooda was impressed with the film making techniques, the course structure taught and the facilities offered in the institute.
Earlier, WWI Governing Council chairman and renowned film director Subhash Ghai welcomed Hooda at the institute. Not only Haryana, but the students of adjoining states would also benefit from the institute in a big way, he added. He said the real competition is in the field of education and skill development; and that the areas and states blessed with quality education would be the real leaders in the times to come.
Read More at: Indianexpress