Tuesday, 02 November 2010 09:24
THQ begins the countdown to the launch of its new uDraw gametablet with the '15 days of udraw' social media campaign.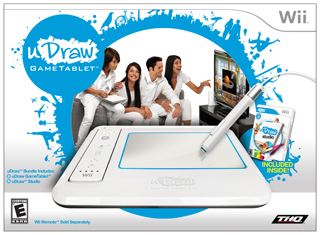 THQ today kicks off its "15 Days of uDraw™" social media campaign in anticipation of the North American launch of its uDraw™ GameTablet™ for the Wii™ system from Nintendo, scheduled to be available in U.S. and Canada on November 14. 

Starting today, THQ will reveal an artwork a day, for a series of 15 days, on all of uDraw's social media portals, including Facebook and Twitter, to showcase the amazing possibilities that can be drawn and created using the uDraw GameTablet and uDraw Studio™.
As part of this artful celebration, THQ invites the Facebook community to become a fan  and "LIKE" uDraw to be entered into a drawing for a chance to win various prizes, including a Wii system and a uDraw GameTablet and uDraw games, such as Pictionary™ and Dood's Big Adventure™.

For more information about the "15 Days of uDraw" campaign, and to become a fan of uDraw on Facebook, go to:  uDraw at Facebook