Thursday, 04 November 2010 09:49
UTV Ignition Entertainment Announce Blacklight: Tango Down is now available for download on Playstation network - EU/ROW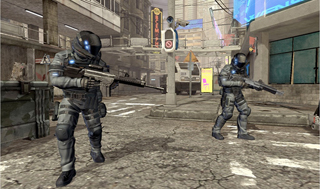 Following a highly successful launch on Xbox 360®video game and entertainment system from Microsoft and Games for Windows – LIVE this summer, PlayStation gamers will now receive a fully-updated version of the game, along with PSN-exclusive content.  Adding to the futuristic shooter's seven game types and four co-op missions, the PSN launch will include 'Crossover' a PSN-exclusive map, which draws players into the financial district just as it transforms into a war zone. Also exclusive to Blacklight: Tango Down's PSN release is the 'Join in Progress' feature, which allows players to team up with their friends and enter matches without having to wait for an intermission. Additionally, UTV Ignition Entertainment will offer players a free tour of duty in the engaging Blacklight universe with a downloadable multiplayer demo that will be available on the PlayStation Network alongside the title's release.

"Seeing the positive fan reception of Blacklight over the last few months as the game launched on XBLA and Games for Windows - LIVE has been truly inspiring," said Jared Gerritzen, Lead Designer at Zombie Studios.  "We spent the summer listening to fan feedback and fine-tuning the game to make sure we're delivering the most immersive shooter experience possible, while keeping the bargain price of just 15 bucks.  We're incredibly happy with the final result and know fans will enjoy the game more than ever before."

In Blacklight: Tango Down, players are equipped with high-tech, futuristic gear that makes combat fascinating and surreal. Its weapon customization system allows for trillions of different configurations that deliver unlimited adaptability and variety of gameplay.  Each player is also equipped with a Hyper Reality Visor (HRV), an advanced imaging system in the player's Heads-up Display that detects nearby enemy and friendly forces and relays the information back to players, giving them immediate battlefield intelligence.