Thursday, 23 December 2010 09:56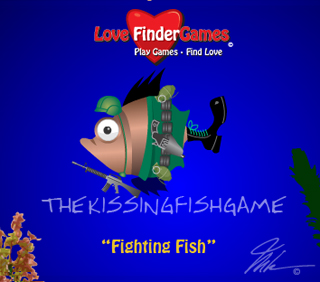 Send a fun, goofy, animated Christmas Greeting to all your friends on Facebook. In just a few clicks the receiver can customize and pass it along to their friends.
LoveFinderGames.com is circulating a hilarious animated Holiday Greeting that is sent via Facebook. When the greeting is received, it features a beautiful underwater living room aquarium with a profile picture attached to a gorgeous cartoon goldfish. The doorbell rings and three Facebook friends swim in and sing the age old holiday classic, "We Fish you a Merry Christmas". This holiday greeting can easily be shared, featuring the sender as a sole singer belting out a holiday tuna to their Facebook bubble buddies. Create custom fish quartets and send a new greeting to specific members in a snap. After the fish sing, the viewer is invited to the LoveFinderGames online underwater New Year's Party.

Being that the game is in alpha mode, input your e-mail address and enter 4111111111111111 for the credit card number and start an account for free. Members can poke around the site and see what this fish story is all about. The game will go live December 31st 201o.

LoveFinderGames will notify members when the game is 100%. Monthly membership is only $9.95 making this a fun addition to any single's online dating strategy. The grand opening is planned for New Year's Eve at 8:00PM EST.

What's really interesting is their use of Facebook to send their message. It's an entertaining approach using fun messages that people can send to their single friends. This is just the first of a series of greetings created by Mike Browne, well known for his viral greetings of the past. He created DL Hughley's animated series, "Let me Holler@Ya" and designed Shaquille O'Neal's Twism website. His art is a little twisted, yet cute. On the flip-side, he also has created for non-profit organizations like Save the Ta-Ta's, AIDS walk LA, March for Babies and Habitat for Humanity.

TheKissingFishGame is an online dating aquarium where daters pick by age, location and sexual interest. They can choose an avatar from a list of (30) egg eye-balled fish creatures and kiss away. To get a taste, they have created a Facebook demo where you smooch your Facebook friends and send them a quick message.
TheKissingFishGame is a combination of internet roulette, speed dating and a cool social game.

Their free Christmas Greeting is a nice present that your friends will really enjoy.