Wednesday, 11 May 2011 11:20
Malayalam Television USA is the first regional channel started from outside of India by Pravasi Malayalees.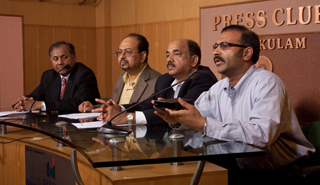 BVJS communications LLC today announced the launch of Malayalam IPTV (Internet Protocol Television) for NRKs.  The new Malayalam IPTV distributes most of the malayalam channels from Kerala through the largest and fastest growing platform for the media delivery IPTV. BVJS communication is the first distributor to offer the highest quality streaming via the IPTV platform and its world's first initiative which offers all Kerala channels under one platform. Currently the Malayalam IPTV will deliver the content in North America and then expand to Europe, Australia, Germany and other parts of the world.
"Malayalam IPTV will enrich the Kerala culture and spread the virtues across the world," said Varkey Abraham, Chairman, BVJS Communication.
"Malayalam IPTV offers highest quality state of the art ROKU-HD SET-TOP BOX free to consumers, so they can enjoy all the channels in the comfort of their home with HD quality TV signals. BVJS has 11 plus channels in its platform and adding more as it becomes available," said Baby Uralil, CEO BVJS Communication.
Malayalam Television USA will focus on a mix of programs.  Majority of the programs will be focused on Malayalee Diaspora from North America and in the mix we will have lots of programs from Kerala which will be specialized in bringing nostalgic memories to the pravasees living in North America with the dream of God's own Country.
"We are planning to have a series of productions based and with involvement of young generation who watches very minimum of malayalam television programs in USA.  This young generation is being alienated by not having any programs with their full involvement. We will also focus upcoming youth talents of USA, who have no way to showcase their talents anywhere," said John Titus, President and CFO, BVJS Communication.
"Our intention is to showcase more American Malayalee programs through Malayalam Television USA, said Sunil Tristar, Managing Director, BVJS Communication.
BVJS Communications LLC is a newly founded company and all the partners are well knows to the community across USA.  The company is founded to bring the Malayalam channels to North America and different parts of the world on an IPTV platform. The company connects Malayalam and Kerala to the world and brings young generations close to our culture and tradition through the medium of Television.