Friday, 13 May 2011 09:07
Newest Release Expands Creative Options for Today's Artists with New Real Brushes, Unique Progressive Art Tools, Customizable Workspaces and Faster Performance on Both Mac® and Windows®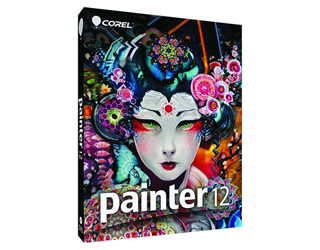 Corel® Painter™ 12, the newest version of the world's most powerful art studio, is available starting today. Combining the industry's most advanced and realistic digital painting and illustration tools, unprecedented speed, and a new, highly customizable interface, Corel Painter 12 gives artists and photographers power and creative freedom beyond anything previously possible with either traditional or digital art tools.
Changing What's Possible in Art - Key News Facts:
Available today for both Mac® and Windows®, the new Corel Painter 12 offers impressive performance with increased brush speeds 3 to 5 times faster, on both platforms.
Whether you're creating from a blank canvas or applying painterly effects to your favourite photographs, Corel Painter 12 extends its reputation for unmatched Natural-Media® painting, adding powerful new brushes including Real Watercolor and Real Wet Oil. These unique brushes recreate the liquidity and viscosity of flowing and blending paint, water or solvent and textures with a new and astounding level of realism.
Further enhancing artistic freedom, Corel Painter 12 offers new progressive art tools for creating amazing designs that simply aren't possible with real-world media. New Kaleidoscope or Mandala Painting enables artists to transform brushstrokes into a balanced spectrum of colourful shapes or blends from 3 to 12 planes. New Mirror Painting lets artists quickly create automatic symmetry by mirroring the plane vertically and horizontally. Mirror placement can also be moved or rotated to achieve stunning and distinctive looks.
Offering a redesigned and highly customizable user interface (UI), Corel Painter 12 fits seamlessly into a creative workflow to make users more productive than ever. The new Navigator Panel, updated panel and palette behaviour, custom workflow workspaces, enhanced preservation of colors and layers, and common keyboard shortcuts make Corel Painter 12 the perfect complement to any professional's toolbox, especially when working with Photoshop.
For a full list of new features and enhancements in Corel Painter 12, please visit www.corel.com.au/painter.
Corel Painter 12 is available now for Windows and Mac in English in markets worldwide. Commercial and education volume licenses are also available, for pricing and other information you can contact This e-mail address is being protected from spambots. You need JavaScript enabled to view it