Friday, 22 April 2011 11:29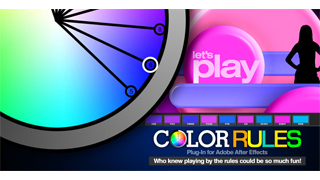 The COLOR RULES plug-in for Adobe After Effects is designed to drastically cut down the time required to experiment and define the perfect color scheme for your motion graphics projects. The Color Rules plug-in works with multiple layers and compositions at the same time and, while it functions a bit differently from other standard Adobe After Effects plug-ins, it is still very easy to use. The plug-in gives you instant access to over 500 preset Color Swatch Sets to help you get started or you can jump right in to create your own.
Color Rules is the first plug-in of its kind for After Effects. With it you can create an infinite number of editable, saveable color schemes or color swatch sets inside of your After Effects projects and apply them to multiple layers instantly. The plug-in uses an intuitive interactive Color Wheel for color selection and guides you in choosing your color scheme based on a series of established principles of color theory and color relationships.

Each project you work on will require a different range of colors and a different set of "rules" these colors are chosen by. By choosing color schemes using the linking relationships or rules available for you on the Color Rules Color Wheel, you can take the guesswork out of finding colors that work well together. The color swatches you apply to your project layers are linked in specific ways, following the principles and relationships you choose. Of course you can always make your own rules by working with a Custom Color Wheel palette. You can also choose to use several different color schemes at once in any project.
Feature Highlights
Unique first of its kind plug-in for Adobe After Effects.
Makes your color decision-making infinitely easier, increasing productivity and saving time.
Allows you to create, save and reuse your own color schemes.
The interactive color wheel gives you instant feedback when selecting or tweaking a color scheme.
Getting started is simple with over 200 professionally designed color presets to choose from.
Standard 8bit per channel and 16bit per channel deep color support assures the highest-quality output.
Fast 64-bit processing streamlines your workflow and gives you instant feedback when applying and previewing your color choices in your project.
Software Requirements

Adobe After Effects CS4 and above

System Requirements

WIN:
XP Professional SP2 / Vista / Windows7
Intel Pentium 4 / AMD Athlon XP
Min of 1 GB system memory

MAC:
OS X 10.4+, OSX Leopard / G4 / G5 / Mac Intel Processors
Min of 1 GB system memory