Thursday, 17 February 2011 09:58
Photographer Dean George's imaginative character studies capture the personalities of artists used to remaining behind-the-scenes.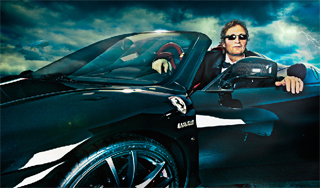 Colorists are used to making images look beautiful, but almost never do they find themselves in front of the lens, serving as the subject matter for provocative pictures. An exception to that rule is provided by an intriguing series of portraits created by photographer Dean George of colorists from Filmworkers facilities in Chicago, Dallas and Nashville. George's vibrant portraits are essentially character sketches that present the individual colorists in fanciful, highly manipulated environments. The portrait of Michael Mazur, from Filmworkers, Chicago, shows him in a pair of hip sunglasses behind the wheel of a sleek, black Ferrari. Behind him, a bolt of lightning illuminates a sky filled with heavy, blue clouds.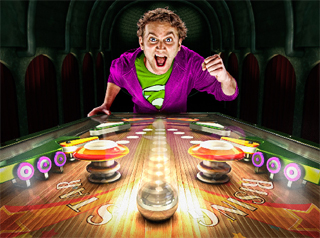 Mazur's young colleague, Tyler Roth, by contrast, appears in a bright violet sweatshirt, leaning over a pinball machine, fist pumping, the words "Rising Star" emblazoned on the game's deck.

George, who has a background as a photographer and motion graphics artist (and whose work has been featured in gallery shows in New York, Los Angeles and Europe), created the portraits with a mix of photography, 3D graphics and PhotoShop techniques. The mash up is so cleverly done, that it is virtually impossible to tell where reality leaves off and George's mischievous imagination begins.

"Sometimes, I'll do something that is entirely practical, the room is real, the windows are real, the person is real, but then I'll add a single object that is 3D and make it look like it is a part of the environment," George explains. "Sometimes, everything but the person is 3D. If you are diligent about mixing the elements, the viewer's eye believes what it sees."

Filmworkers president Reid Brody plans to incorporate the colorist portraits into an ad campaign for Filmworkers' Digigog digital lab. The company recently spent more than a million dollars upgrading its color correction facilities to accommodate the industry's switch to digital production, and the wild, digitally altered portraits capture the spirit of that change.

"We've made the transition from the old world to the new world of color," Brody says. More than ever, color needs to be part of the process. Data based acquisition for broadcast, mobile, and the web requires much more attention to color than film ever did. These photographs are one way to show that we keep pushing forward."