Wednesday, 16 March 2011 08:58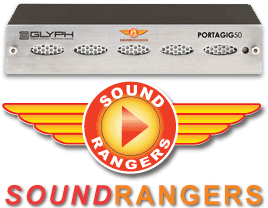 Pro Sound Effects, provider of next level sound effects libraries and licensing services, today announced the release of the Soundrangers Sound Effects Hard Drive, created by the award-winning Soundrangers game interactive audio studio. The library contains 21,117 sound effects delivered on a portable Glyph hard drive that features search software and includes 1 year of free sound effects updates. The Soundrangers library has been used for many years by such industry leading companies as Google, Nickelodeon, Microsoft, Cartoon Network, Adobe, HBO. The Soundrangers library has been created for maximum ease of use in interactive environments. In developing, formatting and organizing the library, the Soundrangers team applied their own workflow and creative expertise in sound design for console and social games, iPhone and iPad apps, interactive software and websites. The hard drive is meticulously organized into intuitive hierarchical categories such as gameplay and user interface elements, foley, nature, animals, vehicles, weapons, looping ambiences, whooshes cinematic transitions and more. One shots are provided with multiple variations and precisely edited for easy plug and play and ambiences are pre-edited to loop – all in all, the Soundranger's library features make it a rich sonic resource for interactive media, traditional media and beyond.

Soundrangers Sound Effects Hard Drive Features:
• 21,117 sound effects (137 GB) on external hard drive
• Compressed formats: mp3 and Ogg Vorbis
• Optimized for interactive, video game, and web design
• Embedded Metadata, Intuitive Category and File names
• Sound Effects Search Software (NetMix Lite): Search, Audition, Drag & Drop
• 1 Year of Free Sound Effects Updates (digitally delivered 4 times per year)
• Mac and PC compatible
• 3 -year Data Replacement Policy

Introductory Price: $2900 USD, single user license (retail $3900 USD)

• Listen to the Soundrangers Audio Demo
• Watch the Soundrangers Demo Video
• Download 25 free sound effects from the Soundrangers Hard Drive Sound Effects Library
• Download the tracklistings and metadata for the Soundrangers Hard Drive Sound Effects Library
SoundRangers Sound Effects Library from Pro Sound Effects on Vimeo.
"As active sound designers working with clients daily we use this experience and design aesthetic when creating content for our library. From the beginning our goal was to create a unique and diverse sound library that addressed the needs of interactive developers. One feature of this is we pre-edit everything so end users can just drop the sounds into their game or interactive production. This approach also makes the sounds very easy to use in just about any type of project." - Soundrangers

"The Soundrangers catalog represents a vital addition to our library and licensing solutions," added Douglas Price, President of Pro Sound Effects."This unique library represents an ideal sound effects resource to address the explosion in interactive media creation of all types and beyond."

Pro Sound Effects is proud to be appointed as the worldwide licensor and distributor for Soundrangers, in addition to Blastwave FX, Foundation, Sound Control SE and BBC licensing representation.