Wednesday, 01 June 2011 16:25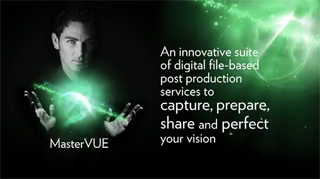 Technicolor announced the launch of MasterVUE, its latest suite of innovations for production photography, dailies and post production.

The suite of tools brings together Technicolor's expertise in color-science, global connectivity and security, as well as its research and innovation strength to provide its customers with a comprehensive experience throughout the production and post-production workflow. The MasterVUE suite of digital services allows content producers to essentially utilize a 24-hour work day, dramatically expanding productivity.

"MasterVUE allows us to proactively bring solutions to rapidly evolving digital processes, tools and workflows. We're pleased to provide our expertise, technology and innovation to help the worldwide creative community take advantage of the digital shift in content production and post-production," stated Claude Gagnon, President of Technicolor's Creative Services division.
MasterVUE includes four services that guide creatives through the evolution of digital content production and provide cost-effective and secure file-based content distribution methods:
•    YourVUE: high quality on-set color primary grading toolset
Powered by Technicolor DP Lights, it allows looks to be created in real time during production, allowing the DP to adjust for lighting and story subtleties while experiencing film print viewing.
•    FileVUE: on-location dailies and editorial preparation service
Eliminates boundaries between production and post-production and ensures that the creative vision is preserved from camera to final delivery. It provides the tools to copy camera original images and backup data and finally create formatted editorial media "on demand" as well as viewing copies.
•    ShareVUE: to synchronize production across multiple time zones
This new dailies content viewing and collaboration solution gives all production stakeholders the flexibility to remotely view, comment and share content, playlists and other production information on desktop, laptop, iOS, and Android devices. It relies on a secure and immersive viewing platform which provides an intuitive user experience.
•    MultiVUE: a remote color secondary grading toolset
Powered by Tech-2-Tech, it gives cinematographers and directors the ability to accelerate their project timeline offering a cohesive DI experience wherever the shooting takes place and wherever the stakeholders are located.
Technicolor works with film makers and cinematographers to optimize standards and address consistent definition of workflows. MasterVUE offers full creative control for filmmakers, studios, broadcast productions alike, enhancing the creative vision while maintaining cost competitiveness. MasterVUE helps address the following fast changing marketing dynamics:
•    The rapid transition from  analog to digital processes
•    The diminishing reliance on tape-based workflows and physical media
•    The shift to virtualized secure cloud-based infrastructures and mobile technologies
•    The globalization of filmmaking and post-production
•    Shorter time-to-market demands placed upon our customers
•    The need for delivering any content, anywhere, anytime, and in any format with shrinking release windows