Thursday, 31 March 2011 09:00
Dimensional Optics, the market leader in the development of 3D Active and Passive eyewear for the cinema, television and gaming industries, announces the introduction of product comparison charts to assist consumers with evaluating the features and benefits of active shutter 3D glasses.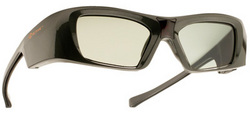 As more consumers are watching 3D sporting events, recently released 3D movies and other newly available 3D content on their home 3D TVs, it is important to understand what product features are essential in providing the best 3D viewing experience. A newly released product comparison chart for active shutter 3D glasses will help consumers to identify products that deliver the best fit, comfort and functionality.
Since 3D glasses are typically worn for two hours at a time while viewing movies, sports and other 3D content, the need for proper fit and comfort is essential.
For the following reasons, one of the highest rated 3D active shutter glasses available on the market today is the 3ACTIVE brand by Dimensional Optics:
Lightweight frame allows for a comfortable fit.
Wide temples block peripheral light for quality viewing.
Full frame design protects the active LCD lenses and improves viewing.
Glasses are rechargeable, so no need to constantly replace batteries.
Product Comparison Chart: http://www.dimensionaloptics.com/active-compare.aspx