Wednesday, 08 June 2011 12:59
NXP Software's CineXPlayer Features 3D Video, Social Media, and Enhanced Management for Added Enjoyment of Movies in Xvid and Other Popular Formats on the iPad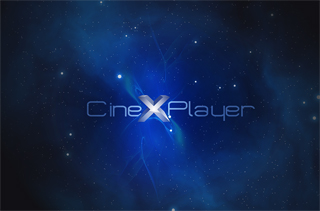 At E3 Expo in Los Angeles, NXP Software today launched the 2nd generation CineXPlayer, so iPad(R) users can now enjoy the 3D movie experience. CineXPlayer R2 introduces social movie viewing by allowing users to instantly post a favorite scene on Facebook with just one button. It also raises the experience of managing movies to a new level with folders, playlists and a password protection option. These new social media and management capabilities are also available for the formats natively supported by the iPad, making CineXPlayer a central place to manage and enjoy personal video content. For social movie watching, people can now instantly show what they're viewing - and their likes and dislikes. CineXPlayer features a "Share 'n' Tell" button that lets users capture a screen image and post it on their Facebook wall, all while continuing to watch the movie in the CineXPlayer app.
CinexPlayer R2 also offers enhanced file organisation accessible via a redesigned, intuitive user interface with video thumbnails. The new UI gives users an easy overview of all playlists and provides access to a folder structure, making it easy to organize content such as TV series by genre, actor, etc. In addition, users can password-protect folders for restricted viewing.
Furthermore, CineXPlayer now lets users watch videos in 3D on their iPad, even without special glasses. The software supports viewing with anaglyph (red/blue) glasses, and through a partnership with GRilli3D(TM), users can also watch "glasses-free". This is enabled by the unique combination of CineXPlayer with the GRilli3D protective film on the device's screen that delivers a glasses-free 3D experience on any iPad device. Video content can be original 3D Side-by-Side or 2D content. For 2D content, CineXPlayer includes a real-time 2D-to-3D conversion generating a 3D effect for any Xvid video.
Visit the CineXPlayer 3D demonstration on the Grilli3D stand 4762 at the E3 Expo.
CineXPlayer is available via iTunes for iPad. Some options including 3D are offered as in-app purchase upgrade.