Monday, 18 July 2011 14:16
Dimensional Optics, a market leader in the development of Active and Passive 3D eyewear for the cinema, television and gaming industries, announces the introduction of 3ACTIVE 3D Glasses for Kids and Young Adults.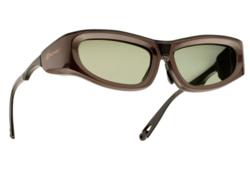 As more and more consumers are enjoying 3D television content at home with their families, the need for high quality active shutter 3D glasses for kids and young adults is essential.
Dimensional Optics has met this need with the release of their new 3ACTIVE for Kids active shutter 3D glasses:
*The lightweight frame design allows for a comfortable fit on smaller faces
*Wider temples block peripheral light and improve the 3D viewing experience
*The exclusive full frame design protects the active shutter LCD lenses from breakage
*The glasses are fully rechargeable so there is no need to constantly replace batteries
3ACTIVE for Kids 3D Glasses not only provide a high quality viewing experience, they also have the lowest retail of all major brands.
At $59.95, including storage case, charging cable and microfiber cleaning cloth, consumers can save more than $70 vs. other brands. That's a great value to be aware of when investing in a 3D TV for your home.