Tuesday, 02 August 2011 08:03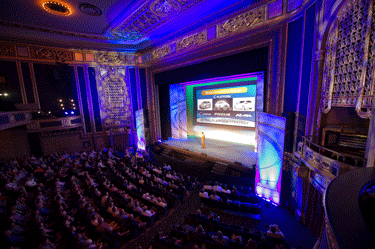 On June 21, 2011, more than 800 Ford Fleet clients arrived at the Detroit Film Theater at the Detroit Institute of Arts and donned their 3D glasses, not knowing what to expect. They were immediately captivated as Ford Fleet kicked off its annual Product and Business Conference with a high-energy, cutting-edge stereoscopic 3D presentation featuring the combined creative and technical genius of Farmington Hills–based Grace & Wild Studios' CGI/VFX team.

Jackson-Dawson of Dearborn, the agency tasked with producing and coordinating the annual two-day event, contacted Grace & Wild as soon as it recognized the need for stereoscopic 3D in support of the meeting's theme—Momentum. In three weeks time, the Grace & Wild team transformed hours of vehicle footage, news clips, interviews, and graphic images into a fast-paced, in-your-face 3D montage underscoring Ford's leadership in the areas of fuel-economy, safety, and technology.

As creative director at Grace & Wild, Brent Feeman oversaw the creative process to ensure that it met and even surpassed client expectations. In what he describes as a very fluid process, Feeman says, "Jackson-Dawson afforded us the opportunity to collaborate on ideas right from the beginning. While this open creative process probably made for a tighter timeline during some rather complicated back-end rendering, the finished piece was better as a result."

"When you pitch the latest in 3D, you'd love to deliver the next Avatar," explains Mitch Jacobs, Executive Creative Director at Jackson-Dawson. "But the reality is, you're creating within a corporate meeting budget and schedule. That's where Grace & Wild excels by offering a blend of creativity, technology, discipline, and teamwork that enables them to deliver the best a medium offers within very tight parameters. They even managed to squeeze in time at the end to improve on what we all thought was perfection."

The completed video may have been a brief two-and-a half minutes long, but it delivered exactly the right blend of power and momentum to kick off the Ford Fleet two-day event and ensure that attendees were focused on One Team…One Plan…One Goal…One Ford.