Sunday, 07 November 2010 08:43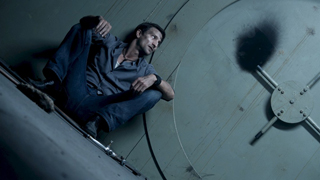 PassmoreLab's New Psycho Thriller Takes on Orlando After Winning "Best 3D"Award at 3DFF Hollywood
After taking home first place at the 3D Film Festival in Hollywood last month for their new independent film "Iron Doors 3D", San Diego-based 3D Production studio PassmoreLab and FullFeedback Productions of Germany will screen the film at the Orlando Film Festival today. The co-producers took home the top prize in the 3D Narrative Feature Film (Conversion) category. The feature was directed by Stephen Manuel and stars Axel Wedekind. PassmoreLab handled all aspects of 3D production out of San Diego.
"We are thrilled to bring the film to the Orlando Film Fest," said Greg Passmore, president of PassmoreLab. "Iron Doors 3D is a film that uses 3D to help provide a sense of presence for the viewer, which becomes an integral part of the storytelling given the subject matter of the film."
The film is a tale of one man's intense struggle to free himself from inside a locked vault. He has no idea how he got in the vault – or how to get out – but he somehow must escape before he dies of dehydration.
"The way we used 3D in this film really helped to draw the audience in on the intense claustrophobia of the story," said Director Stephen Manuel. "You feel like you are actually inside the vault."
"Iron Doors 3D" is the first collaboration between PassmoreLab and Fullfeedback Productions. The Orlando screening takes place as a part of the Orlando Film Fest's '3D Thursday', on Thursday, November 4th, at 9pm at the Plaza Cinema Café theatres, located at 155 South Orange Avenue in Orlando, Florida.