Tuesday, 02 August 2011 10:56
Page 1 of 2
Next Generation Simplifies Character Animation, Adds Stereographic Capabilities and Physical Rendering.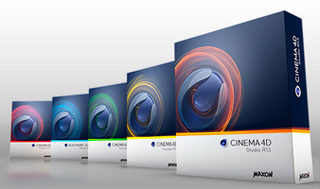 MAXON announced CINEMA 4D Release 13, the next generation of its industry- leading 3D motion graphics, visual effects, painting, and rendering software application. With all new character tools, integrated stereographic capabilities, stream-lined multi-artist collaboration and physical rendering, CINEMA 4D Release 13 builds on the company's 25-year legacy of enabling digital content creators around the world to produce highly engaging content quickly and easily for a variety of industries.
As MAXON commemorates its 25-year anniversary and its most successful year to date in 2010, Harald Egel, MAXON founder and CEO, observes that today's work environments are marked increasingly by designers creating content in remote locations, working on various platforms and production pipelines, as well as producing more 3D stereoscopic material.

"CINEMA 4D R13 is supercharged with numerous productivity enhancements that cater to the multi-collaboration challenges our customers face every day," Harald Egel states. "Artists interested in expanding their capabilities will love the new character tools. And, of course, the physical renderer with stereoscopic functionality is incredibly important as the new way to deliver immersive entertainment."
Key Highlights of CINEMA 4D Release 13:
MAXON offers four versions of CINEMA 4D, each catering to the needs of 3D artists in different industries. NOTE: The features listed below may not be included in every configuration.

New and Enhanced Rendering Engine
Digital artists are constantly striving to improve the quality of their images. This new version gives CINEMA 4D users a bundle of new tools to aid in achieving the realism they crave.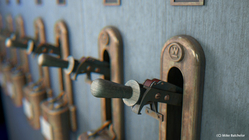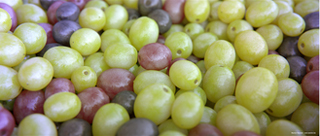 Physically-Accurate Rendering: Creating photorealistic images is easier than ever with the new physical render engine. Based on real camera properties, this additional render engine accurately calculates 3D motion blur, depth of field and lens distortion based on the focal length, aperture and shutter speed of the camera.
Efficient Subsurface Scattering: Now users can efficiently create translucent materials such as milk, skin and wax with a new subsurface scattering shader included with both the new Physical Render and CINEMA 4D's standard render engines.
Shared Image Sampler: Saves tons of render time by combining sampling for multiple effects such as motion blur, depth of field, area shadows, ambient occlusion and blurry reflections. Sample options allow users to specify a fixed number of samples, apply an adaptive number of samples based on the geometry and shading complexity, or progressively render each frame within a given number of passes or amount of time.
New Anti-Aliasing Filters: Users can now achieve higher quality anti-aliasing using the Mitchell and Gauss algorithms.
Stereoscopic 3D Workflow

Stereoscopic capabilities are supported throughout R13 to provide a dependable solution and fluid workflow for generating high-quality 3D content across a wide variety of media: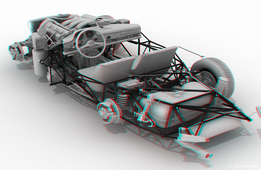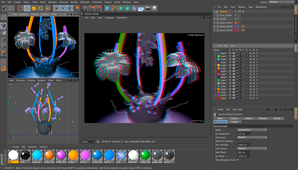 Stereoscopic Camera Conversion: Gives users control to easily convert any camera to a Parallel, On Axis, Off-Axis or Radial Stereoscopic camera.
Stereo Image Workflow and Preview: Stereo images can be previewed directly in the 3D editor using Anaglyph, Interlaced, Shutter or Side-by-Side methods.
Stereo Rendering Options: Allows customers to easily render the merged stereoscopic image or separate images for each individual camera to create a true 3D experience.
Picture Viewer Support: Review animated stereo renders, adjust parallax and export renderings as merged or individual stereoscopic files.